4 room HDB interior design is a guide to creating a masterpiece. 4 Room HDB Interior Design: A Guide to Creating a Masterpiece will provide you with the tips and tricks needed for designing your 4-room flat, from how much space should be allotted for each room to which colour schemes are best suited for different rooms. This book will also teach you about Feng Shui, where it originated from and what it means in relation to 4 room HDB interior design. It will even show you how feng shui can make your 4-room flat feel like an oasis of peace!
4 Room HDB Interior Design: A Guide to Creating a Masterpiece contains everything that anyone could need in order to create their own personalised 4-room flat. 4 room hdb interior design would do well to use 4 Room HDB Interior Design: A Guide to Creating a Masterpiece as their go-to guide.
BLK 115A ALKAFF CRESCENT DESIGN
Enjoy the bold, dark green modern interior. The back wall of this living space, combined with the recessed lighting beneath the platform, makes the large space feel more intimate and warm. Abstract hexagon flooring was introduced to the dining area for added dynamism, completing the Modern industrial design. Finally, earthy wood elements and a neutral palette were used to complement the serene and tranquil living space for a more subtle form of elegance – reminiscent of the outdoors!
BLK 438A BUKIT BATOK AVE 8 DESIGN
Did you know that? The use of natural materials, pale colors, and minimalist shapes in open interiors is referred to as Scandinavian design. This design trend began in the Nordic region of Sweden, among other places. Consider white wooden cottages with monochromatic color schemes and artworks to get a good idea of this design. Scandinavian design focuses on organic materials such as wood that is decorated with items that make it feel extra cozy.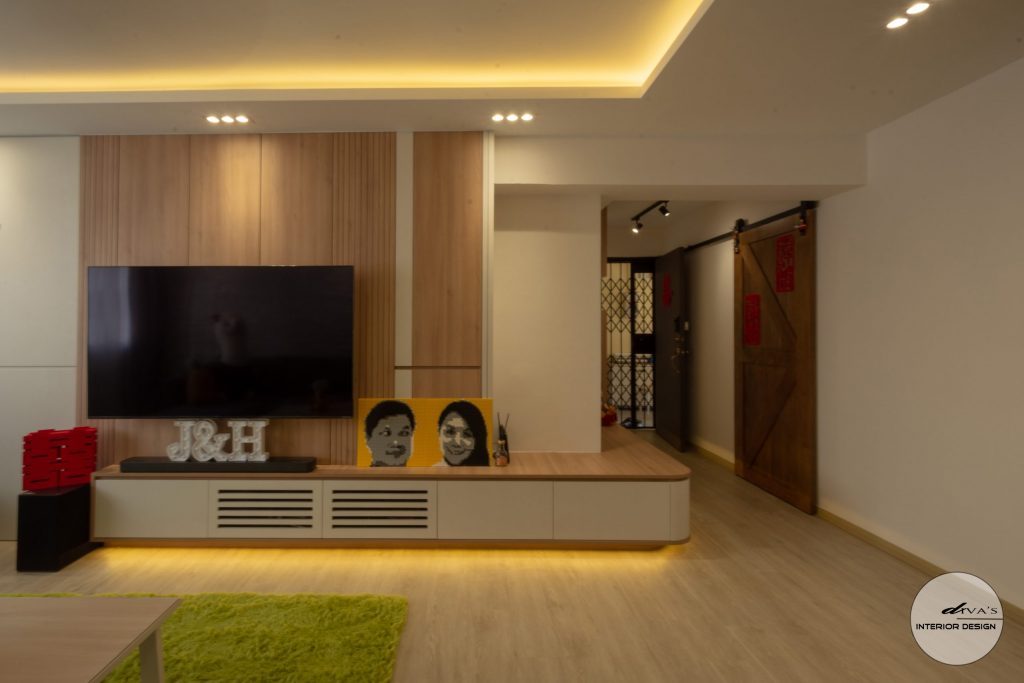 BLK 435A FERNVALE ROAD DESIGN
This is the living room of a Sengkang HDB flat. Nothing detracts from the sense of sophisticated luxury in a space like the use of some inexpensive tricks we have up our sleeve! 1. Use a lot of earth tones to give the impression of a polished luxe home. Your best bets are carpentry, furniture, and curtains. 2. Make a strong statement with natural materials. When compared to tiles, laminates are more creative and less expensive to install. Warm lighting should be used to wash the atmosphere in your home.
MACPHERSON SPRING DESIGN
Accent lighting adds decorative elements and has a strong visual impact. It is a resource used in modern interior design to draw attention to specific elements such as paintings, feature walls, or TV consoles. Keep in mind the types of lighting that designers layer into all interior spaces when choosing lighting for your home. A well-chosen combination of lighting resources can completely transform your home's experience and ambience. Consider how you can use accent lighting to make the space the focal point, as in this four-room BTO in MacPherson Spring.
BLK 33 GHIM MOH LINK DESIGN
Laminates have become very popular in interior design. Colors, patterns, and texture abound, allowing interior designers to create one-of-a-kind indoor spaces at reasonable prices.
Aesthetically pleasing, many types of woods and styles can be replicated, and this versatility has contributed to the product's popularity among homeowners and interior designers alike. The only thing left is to be creative with designs like this BTO in Ghim Moh, which makes bold use of wood to create a cabin-like atmosphere.
 607A EDGEFIELD PLAINS DESIGN
Create magic in your home with this exquisite touch of modern rustic interior design!
Weathered wood elements and a cozy frame come to mind when we think of a modern rustic interior. With its cool grey color palette that elevates the cosy setting with feelings of warmth, this home fulfilled them all.
Weathered wood is a rustic feature stapes, and its textured appearance accentuates a modern contemporary feel and adds dimension to space. Warm orange lighting was layered throughout the home, and it quickly became a charming complement to this cozy abode!
Conclusion
4 Room HDB Interior Design: A Guide to Creating a Masterpiece. 4 room hdb interior design is the perfect guide for anyone who wants to create their own masterpiece in an affordable way, without compromising on quality or aesthetics. This article includes everything you need from flooring and lighting to furniture and accessories!
If you want to design your dream HDB flat, but do not know how to start or you don't like the idea of doing that yourself, we provide a service to help you with your dream HDB interiors.
Do look out for one in case you need assistance! We can ensure that your space is both functional and aesthetically pleasing while keeping in mind the HDB design guidelines.
Get in touch with us here! To make your dream home come true!