There is an unprecedented demand for luxury condos in Singapore at the moment, and this trend doesn't seem to be slowing down anytime soon. If you're an aspiring developer or simply somebody with a lot of cash who wants easy passive income, buying into this boom may well be a great idea. However, if you happen to already own a condo in Singapore, it may be best to focus on ways you can increase your property value. One way of doing so is by making it look luxurious to an otherwise average-looking building.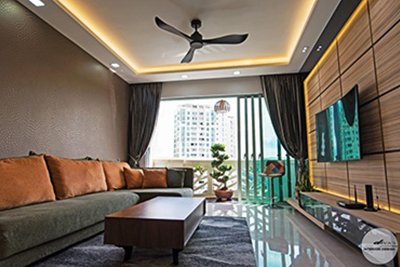 The residents of this condo were really having issues with the design of their building. It was extremely staid and had not aged well at all. The balconies were an ugly grey color, there was no private gym in the building, and traffic on weekends was a nightmare thanks to the restaurants open 24/7. Still, being an affluent neighborhood, the building was always full of people who could afford to pay high monthly maintenance fees. After a few sleepless nights for the residents, they decided something needed to be done about it.
Their condo stands out from all the others in the area now. While there are other buildings that have been done up to look like this, the residents of this building are proud that they were able to afford it. People who don't know any better think they're in a new condo complex. This has added immensely to their property value, and there's talk of selling things off for millions now. The main problem with the previous design was how uninviting the building looked. Aside from a few places of interest, there was nothing particularly special about it aside from how expensive it was to live in.
So Now We're Going To Disguise On how  to Design A Condo That Will Sell Like Crazy In Singapore:
Make It Look Different.
Buildings are not supposed to be designed in the same way as electronic products. They are utilitarian by design. Walls, doors, windows… That is all they are supposed to really do. However, if you have an entire building that looks like it could be one big storeroom for a grocery store, then people will look at you as if you're crazy. So, what can you do to make your building look different? The easiest way would be to blend in more with the surrounding buildings.
For example, let's say you have a condo that was built at some point in the 70s or 80s. Well, if this is true for most of the buildings on the street, adding a touch of Singaporean authenticity here and there will go a long way towards making your new design stand out from its neighbors. You don't even need to change anything structurally. Just choose some colors that are not normally used for walls or balconies and paint them up accordingly. This is something that takes very little effort but has huge rewards.
This condo used to look like every other building in Singapore, and it was a boring shade of grey. When you come home tired from work, do you want to see the same color at your doorstep? If the answer is "no," then add some color or texture to make it distinct. You don't have to use anything that would be considered too flashy. A simple coat of paint is all it takes, and you don't really need permission from the condo board either (in Singapore at least). On the other hand, you can go for something more ornate like gold or marble textures to make your building stand out even more. You may even want to include a small garden area in your front yard with some flowers. The more different it looks, the better your property value is going to be.
Make It Look Luxurious.
There's a reason the expensive condos in your neighborhood look so much more luxurious than your building – it's because they have superior finishes and amenities. It might be too late to add new flooring or paint, but you can probably get away with adding luxury fixtures like extra-large mirrors or even premium appliances. The key is to make your condos much more expensive-looking than they really need to be, but not in a gaudy or cheap way. You also want to avoid anything that looks tacky.
One of the best ways to do this is by making your building look like it's built out of marble stone. For all intents and purposes, you can make your building look like it's constructed of marble. All you need to do is type up a small flyer and distribute them around the neighborhood. I know for a fact that most of Singapore's richest residents like to read the classifieds section in their spare time, and it is even possible to place an ad in the newspaper. There is no need for a fancy website or logo either.
A luxury condo has a lot of things that most other buildings don't have – gold fixtures and fittings, high-quality marble flooring, and even private luxurious swimming pools. These are things that you can arrange to be included in your condo without having to spend too much time or money on it. The most important thing is the gold fixtures, public bathrooms with golden sinks, golden mirrors, and fancy chandeliers at the entrance area will do nicely. The bathroom only needs to be large enough for a single person if it is only going to be used by the homeowner.
Conclusion:
I know that Singapore is a very expensive city, but you don't have to settle for second best just because you can't afford the luxury condos yet. Just by making a building look less boring and more luxurious than it really is, you'll instantly make your property value go up. I would recommend opting for either gold or marble fixtures, both are very classy and cost very little to acquire.

If you have any questions about design, building, property, or anything else that might be going through your mind, you can ask us at any time our team knows everything about creating a functional and inviting home. if you're interested to know about condo design Singapore, do not hesitate to contact us we provide home design, decorating, and renovating for your beautiful home 😀