It's not uncommon for people to feel that they don't have enough space in their homes. The average 3 room HDB flat is about 120 sq ft, but it can be difficult to make this much space work effectively.
Whether you live in a 3 room hdb flat or are simply designing one, the space is your oyster. The small space shouldn't intimidate you, instead, it should encourage you to be creative in order to maximize its potential.
Luckily, there are many design tips and tricks you can use to make the most of your living space!
1. Maximize vertical spaces On Master Bedroom And Other Room.
Depending on the available space you have on master bedroom and other rooms, you should try to make it work for you. There are countless ways to maximize vertical spaces such as using furniture like installing a hanging rail for clothes or storing items that don't need constant attention.
Think outside the box! It's easy to forget how high up you live when you're used to only seeing ground-level views from different angles.
Try to take advantage of the vertical spaces in your home, plan out storage units, shelves, and wall hangings that can be attached to these high-up places.
Consider adding shelving or storage units on your walls or ceilings for extra storage. 
You might also want to consider installing a loft bedroom if you have the ceiling height available! If not, try finding creative ways of stashing away clutter, such as under the bedroom or in the cosy corner of a room.
2. Bring nature indoors.
Adding plants to your flat is an easy way to bring nature into your home and lift your mood. If you don't have space for a proper plant pot, consider getting small potted plants instead.
This way, you can place them anywhere and easily move them around if you need more space. You can create an indoor vertical garden by hanging up racks filled with planters and pots! There are even ways to DIY vertical indoor gardens, which will benefit not only yourself but also Mother Earth!
3. Streamline appliances.
Bland walls make kitchens look cluttered easily, so not spruce things up? You can install a kitchen cabinet that extends to the ceiling. This will make your kitchen look taller and allow you to make the most of the space available.
With this extra height, you'll be able to utilize all four walls as storage space! On top of that, consider getting drawers for your appliances instead of giving them their own bulky cabinets. If they're stored away neatly in drawers, they won't take up any valuable counter space!
4. Add another layer with wallpaper.
Wallpaper is an easy way to add texture and give a room a chic look without spending too much time or effort into decorating.
It's also a great way to cover up bland walls and huge windows. Be sure to choose a pattern that does not clash with the rest of your flat, though!
If you'd like to create an accent wall, try using wallpaper as a base for a more interesting design later on. Pick a simple patterned wallpaper that matches your neutral colours scheme and select accent walls, perhaps the one above your beds on the bedroom, to add texture and create depth
You can also apply wallpaper border strips or stickers in different colour along the edges of walls to give off the illusion of multiple rooms!
5. Gather around Dining Table And other furniture.
What should you do if you don't have enough space for larger pieces of furniture, like dining table on the dining areas? Make your small space work harder for you by gathering smaller pieces into bigger ones!
You can use shelving units that double up as seating to save precious floor space.
Looking for a versatile and space-saving table? Consider one that can double up as storage like this coffee table which has multiple shelves on the sides of it.
This way, you'll get to use your flat's limited floor space while maximizing your furniture!
6. Use furniture cleverly on Compact Living Space.
When it comes to designing a 3 room HDB flat, it's important not to overlook even the smallest details, like your doorknobs!
Instead of leaving them untouched try painting them with pop colour, like orange colour or green colour to add a splash of colour to your compact living space.
Another way to maximize space is by using furniture that can be folded or stashed away when they're not in use, like this folding ottoman table!
This way you'll free up extra floor space for other activities and still have somewhere to sit down for tea with friends.
7. Save the best for last.
When designing a small flat, you have to think carefully about where each piece of furniture will go to ensure that they're functional and aesthetically pleasing.
If there's a particular area in your flat that you want to be the focal point, even if it's an area with little floor space or one with a large window, design styles the rest of your flat around it!
Finally, adding decor items like cushions or area rugs that reflect your personal style isn't just about making your new home look good; it's also about making you feel good!
Cushions are very versatile because you can place them anywhere without taking too much space.
Not only does it function as a cozy seating corner but also as an extra layer to your home's look.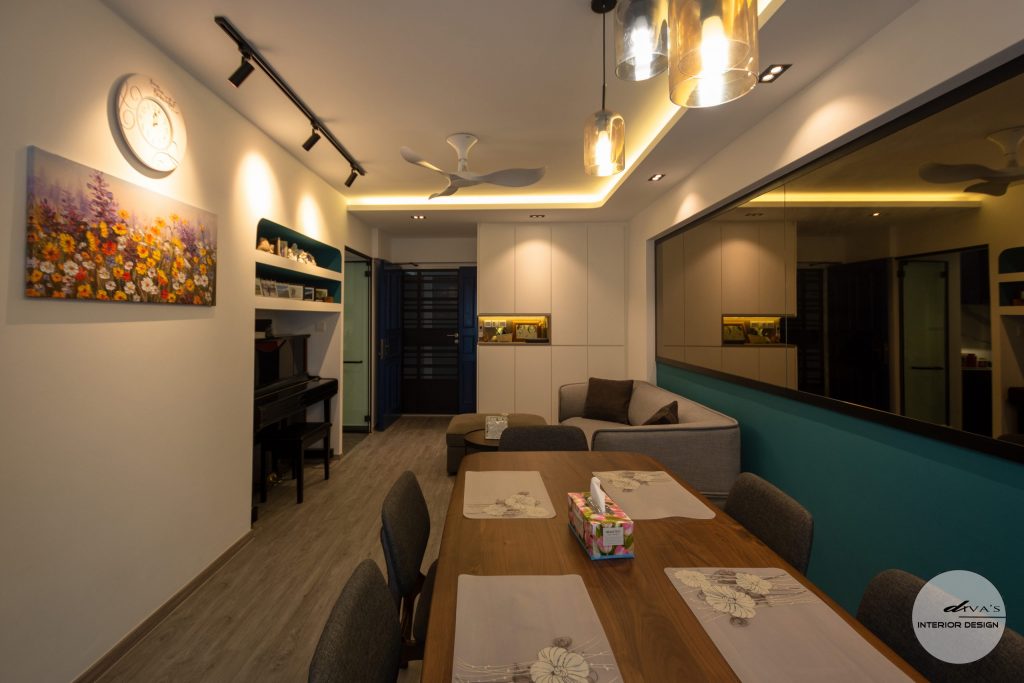 8.Muji aesthetics – light wood, natural light and sunken wood.
Muji's minimalist design with black, white and gray palette is something many people are aware of instantly. But reaching this result has also meant balance. Besides installing wood in chairs and terrazzo make certain these are accompanied with nice comfort cushions and wood materials to your sofa and bed. A light curtain or even one made of fabric will see plenty of natural light allowing your family the space you need to live with. A glass partition in the dining section extends the room to make it look bigger. Take note that the removal of more glass surfaces could be much more expensive.
9. For fitness junkies – clear glass for open-air gym concept
Covid-19 combines your living room into an area where you can use some of it as a home gym. Using glass walls they create separation between bedroom and fitness equipment while opening space. You could orient your furniture to follow an exercise video or watch one of your favourite Netflix shows to distract yourself from calories burning. Cost: $55,000 Covid 19 is a 3-roomer with glass walls and abundant natural light can enter. This also makes it easier to see that plenty of natural light is let out which makes it much less drab and small despite having a 3 room hdb.
Conclusion:
Small spaces don't need to be boring!
Whatever you do, always keep your flat's function in mind and you'll find that even small HDB flats can be amazing places to relax and unwind after a hard day at work.
Do the best you can to create a home within your constraints, and it'll all come together beautifully in the end!
If you want to design your dream HDB flat, but do not know how to start or you don't like the idea of doing that yourself, we provide a service to help you with your dream HDB interiors.
Do look out for one in case you need assistance! We can ensure that your space is both functional and aesthetically pleasing while keeping in mind the HDB design guidelines.
Get in touch with us here! To make your dream home come true!