Looking for ideas and inspiration for your kitchen floor tiles Singapore in your new home or renovating a tired old tile? Well, we have the solution for you. It can be tricky to decide which flooring to go for in practical spaces like kitchens and utility rooms. A great kitchen flooring choice is one that is hard-wearing, durable, and easy to keep clean. You also want it to look great.
Tile ideas abound. In order to create a focal point in your kitchen, there are many styles you can choose from. You can have a classic, elegant porcelain kitchen with a beautiful pattern, have a more casual, country feel with a flagstone floor, or add a bright pop of color with some colorful terrazzo tiles.
To make it easier for you, here are some kitchen floor tiles ideas and designs that you can apply to your lovely kitchen.
Monochrome tiles for the classic focal point
Choose a classic Victorian style with black and white checkered floor tiles. The tiles create a warm, welcoming atmosphere for your guests. These are the best tiles for the kitchen floor if you have spacious kitchen space.
Try faux rustic-wood kitchen floor tiles 
No one wants to see sawdust or wood chips in the kitchen, but if you go the natural route, there are a few things to keep in mind, If real wood gets wet, it will warp and crack, so is not a practical choice for any type of kitchen or utility room. 
The good news is that you don't have to compromise on beauty and practicality to get beautiful wood floors at an affordable price. Wood-effect flooring or vinyl kitchen floor tiles is available in a wide range of color choices and wood grain finishes. From blond Scandinavian hair to warm and mellow darker woods.
A must for all kitchen and bathroom areas, these easy-to-lay, water-resistant and splashproof tiles look good too. Lay a long, planned piece of plywood along the length of the room in a plank-like fashion to create an impression of a wooden floor.
Geometric kitchen floor tiles
When it comes to decorating, an excellent idea is to apply this approach to kitchen tiles. The most popular are the hexagon-shaped ones. To some extent, they resemble the beehive and bring nature closer.
Moreover, the large variety of materials and colors allows you to adapt these tiles to any style. Consider one color, and choose a matte or glossy surface based on what effect you want. Choose this product if you want to look elegant or balanced. You can get an original result by repeating the pattern on the tiles on the wall. You can easily enlarge the space and enliven your design by adding a focal point.
Try elegant pattern tiles for your kitchen tiles
To make your kitchen floor the focal point of the space, use a stunning pattern on the floor. You can go for traditional geometric tiles with a Victorian look, or you can choose a modern chevron effect.  Pick a central color with a few accent colors and make your designs more interesting by varying their placement. Choosing a colorful floor tile that picks out the central wall color will create a really stunning backdrop to your space. 
Use a unique pattern
A varied collection of floor tiles is the perfect way to make a statement. Create your own design patterns by randomly placing tiles. Choose from a rainbow of colors, including whites, greys and blacks, or choose a monotone mix of whites, greys, and blacks.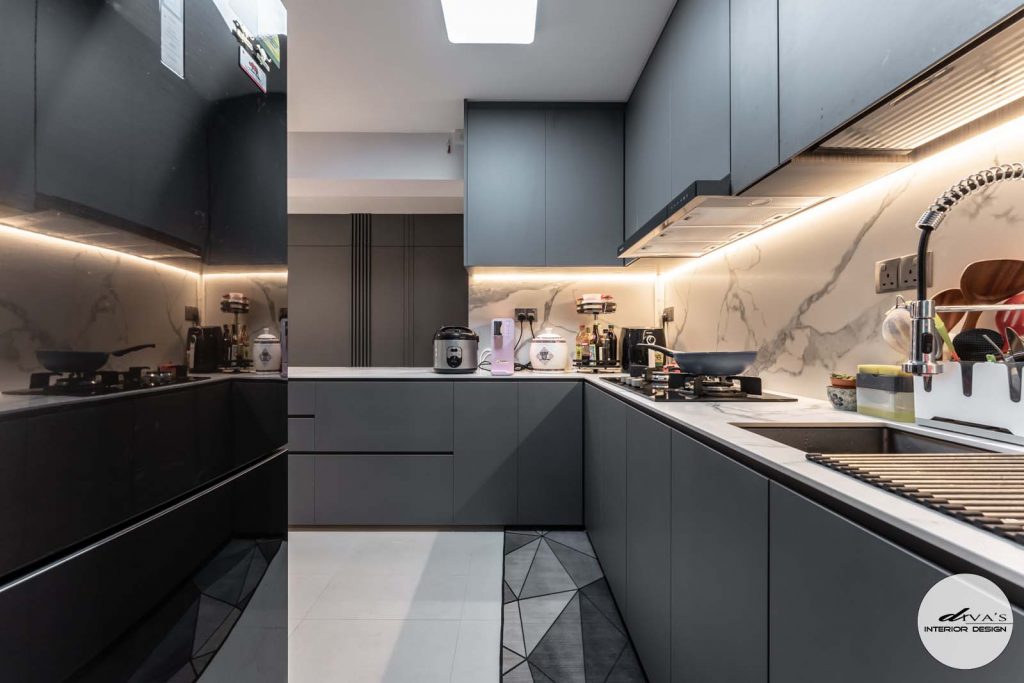 Try terracotta kitchen floor tiles
Terracotta flooring gives off an antique, country vibe that goes well with any traditional home design. This room looks amazing! Terracotta floor tiles are a modern and warm look for any space. Natural stones have many of the same benefits as the more expensive materials like slate and stone. They're a timeless classic that can be used in almost any room in your home.
Play with pastel-colored kitchen floor tiles
Go for a modern diner theme that takes inspiration from Miami. Matching a few key colors in a playful color palette such as pastels, pick two or three key colors and repeat them throughout the room and your kitchen floor tiles.
When you're redoing your kitchen, consider the island as the focal point for a sleek, streamlined look. Mix it up by using different layout tiles for the flooring, but keeping to the same soft pastel palette throughout.

Design your dream kitchen interior with Diva's Interior
You are here because you have an idea of the perfect kitchen. It could be small, large, modern, or traditional. But when you start thinking about the design you want including your kitchen floor tiles design, it becomes so much harder than it seems.
Diva's Interior is the leader in innovative and inspirational design solutions for home decor. A brand built on quality, durability, and high quality. Whether it be interior or exterior, there is a Diva solution for every budget. Click here for more information.