In our kitchens, we cook, dine, entertain, and socialize. As a result, it is necessary to design a place that meets all of these needs. With the clever usage of kitchen layouts and designs, even the smallest spaces can cater to your every need. 
HDBs are affordable and available apartments that are very close to the CBD, MRTs, schools and shopping malls. But since it's a more compact space than your typical house – how do you design an efficient kitchen layout? Well, we have 5 kitchen design ideas for you!
For one, you'll gain access to professional advice that can make your dream kitchen a reality in ways you never would have imagined!
In addition, experts will be able to design the perfect space for your needs and budget which means no more worrying about being limited by what's on the market or not having enough money for what you want.
Plus, if you're someone who isn't very good at designing spaces yourself then this could be just the solution you need!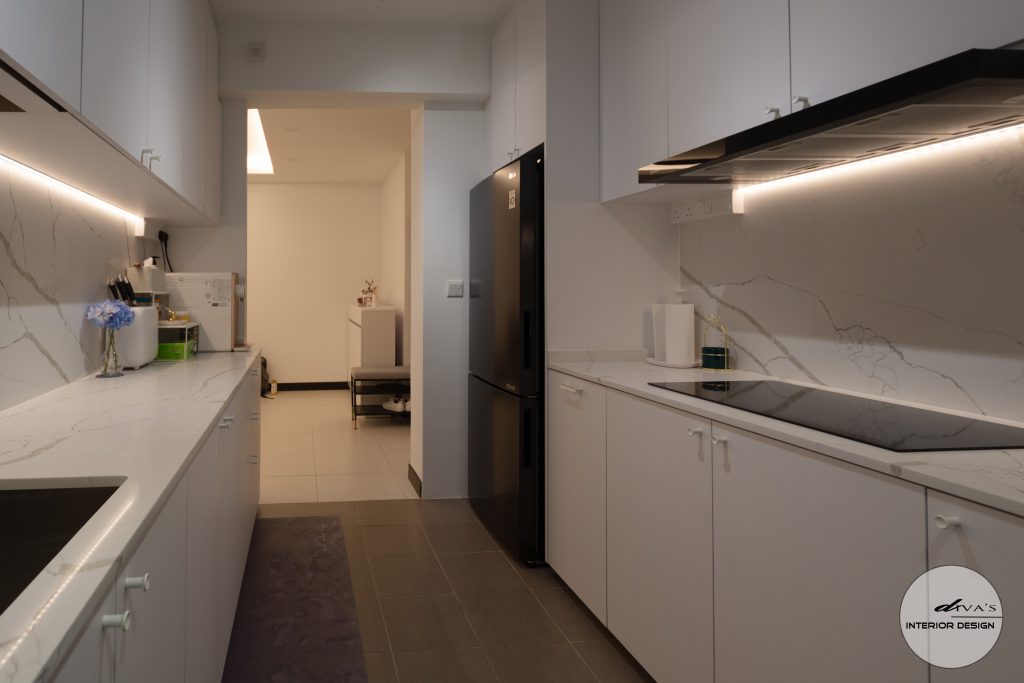 The HDB 4 room kitchen design Singapore is a popular concept that home-owners are looking into to take their kitchen space to the next level.By using these Kitchen Design ideas, you will be able to access the benefits of having professional advice from a designer.
The design, color, and layout of your kitchen is something that can be customized for your specific needs; these options are not available if you were to do it on your own. However Finding the perfect HDB flats 4 room kitchen design for your family can be tough. 
We know that it's hard to find a space that is both functional and beautiful, but we're here to help! Our team of designers has created 5 different HDB kitchens with modern features like sleek white cabinetry, stainless steel appliances and marble countertops
1. Open-concept Kitchen with the kitchen backsplash.
If you're looking to make your cooking experience more seamless and less stressful, open-concept kitchens are a great idea. This design allows you to have the kitchen island right near the cooking space and is easily accessible for any essential utensils, ingredients, wet and dry zones or appliances.
This is one of the most popular interior designs among Singaporeans;.
Furthermore, the government has stated that the open-concept kitchen will be extended to BTO projects. As an interior design result, such kitchens will soon become the norm in HDB flat apartments.
It's simple to understand why the design is so popular; it lets in more light and helps you to keep an eye on your children as you cook. An open kitchen is a fantastic choice. Cooking grease and odors, on the other hand, may quickly travel throughout the entire flat.
If you choose this kitchen design, here are some pointers:
A good cooker hood keeps unwanted odours from remaining in your house; it sucks away strong odors, leaving your home feeling clean.
Consider putting your kitchen range against a wall. As a result, a kitchen backsplash may be placed to control oil splatter while cooking.
A tiled wall was used as a backsplash in this 4 room HDB kitchen design that will clean up a breeze.

2. Open Shelving Kitchen.
One of the new trends we are seeing in kitchens is the incorporation of open shelving. Open shelves, such as what you may find in a pantry, can be used in both large and small spaces to add visual interest and help to make the area a more functional kitchen.
The type of shelving you choose will depend on your personal style preference and space fro cooking area. For those with less storage, open shelves allow for easy access without taking up much space.
For those with a white kitchen who want to show off their belongings or those with lots of items, open shelves also offer an attractive way to display items that would otherwise be hidden from view.
Having open shelves in a kitchen, as opposed to typical kitchens with rows of built-in cabinets, is unusual. It gives the impression that the kitchen is larger than it is.
These shelves are also great for storing your needs. Furthermore, they provide you with a place to exhibit your prized collection of dinnerware.
3. Single Wall Kitchen.
For those who are looking to utilize more space in your kitchen, single wall kitchens may be for you. These kitchens often take the place of a wall between the dining room and kitchen while providing a seamless atmosphere.
In Singapore, kitchen space is limited, As a result, building a single-wall kitchen might be the answer to your space-constrained difficulties.
This Design sound same as the name, confines parts of the kitchen to a single wall. The requirement for fewer cabinets aids homeowners in conserving floor space and building expenses.
It also enables more efficiency. A well-planned design will prevent work zones from being too far apart. Furthermore, you can prep, cook, and clean up all in the same area. This increases your convenience and productivity in the kitchen.
4. Kitchen Island.
A kitchen island is most commonly located in the middle of the kitchen and it may not be as big as a regular island. It is usually longer than it is deep.
The typical purpose of a kitchen island are to provide extra counter space, storage, seating and also a buffet. The kitchen island can be used for sinks on both sides or just one to save on plumbing costs, from which they'll usually have taps on each side.
A kitchen island is arguably one of the most coveted kitchen designs. Besides its impressive appearance, it's also extremely functional since it doubles as a storage unit and a space for meal preparation.
The majority of Singaporeans who own a home live in apartments. This indicates that space is a constraint that prohibits us from constructing an island. It is, nevertheless, not impossible!
Here are some ideas for incorporating an island counter into your kitchen:
Make the most of your space by integrating your stove, sink, and storage into your island. You may also transform it into a dining area by adding some more seats.
You don't have to settle for a huge, immovable island smack dab in the middle of your kitchen. A movable island counter serves the same purpose; roll it out when you need more room and tuck it away when you don't!
5. Galley Kitchen.
Galley kitchens are a relatively new trend in modern home design. They are quite similar to the kitchens that you would see on a ship but they're usually much smaller and lack any sort of storage space.
The kitchen is typically set up with an island in the middle which holds a sink, stovetop and oven. There are cabinets along two or three of the walls (depending on whether or not there is seating space) with sliding doors.
This type of kitchen maximizes its functionality by being able to store all your pots and pans underneath one cabinet so that it doesn't take up valuable counter space while still having the space for a pot rack above the sink which can be accessed easily when cooking larger meals.
Galley kitchens are a HDB standard, noted by its compact layout and parallel kitchen counters. These kitchens are meant to be small and functional, making them ideal for HDB owners with limited space.
Here are some things to consider if you want to go with a galley layout:
The goal of designing a galley kitchen is to make it feel as spacious as possible. You may do this by decreasing the amount of tall cabinets in use. Alternatively, instead of having storage on both sides, you may keep it to one side.
Make the most of your available space by including as many built-in things as possible. A built-in oven, for example, is preferable than placing the equipment on the counter.
Stick to a deeper, heavier color for the base cabinets and a lighter color for the top cabinets. This helps to alleviate the sense of being trapped in a hallway.
Conclusion:
The kitchen is the heart of your home. It's where we gather with friends and family, it's where our favorite memories are made.
Which is why designing your own kitchen should be a process that you take seriously to create an environment in which you can cook delicious meals for years to come.
We hope this article has helped give you some ideas on how to start planning out your new dream kitchen!
Are you Looking to Hire an Interior Designer Expert?
Benefits of Hiring Experts

What to Expect

How to Prepare for the Process

Cost Considerations and More Info
Diva's Interior was a professional Consultant on Interior Design, Offering Kitchen Interior Design, Kitchen Renovation Services, Installment Services, BTO HDB Kitchen, etc.
For more Information Contact Us today! don't Miss up chance on our promotion in months!