Many people are beginning to recognize the value of upgrading their kitchen, and many also want to do so on a tight budget since they may not have the financial means to undertake such an endeavor. The key is that when undertaking any renovation project, it is important to be realistic about what can be accomplished at a given price point.
For example, if you plan on remodeling your entire kitchen from flooring up, but only have $10,000 for the project then you will need to look at less expensive options such as replacing cabinets or laying new tile floors. As long as you are able to keep this mindset throughout your process of planning out renovations and sticking with it throughout the duration of the job, you will be able to make the best out of the situation and still have a kitchen that looks fantastic.
One way in which one can save money is by substituting higher quality materials for faux brands. While it may sound counterintuitive to get high end fixtures in order to save money, it is possible when you use items such as corian countertops and stainless steel appliances.
We produced this professional guide to assist you understand the topics you should think about before having your kitchen renovation in Singapore, as well as to offer you some financial estimates.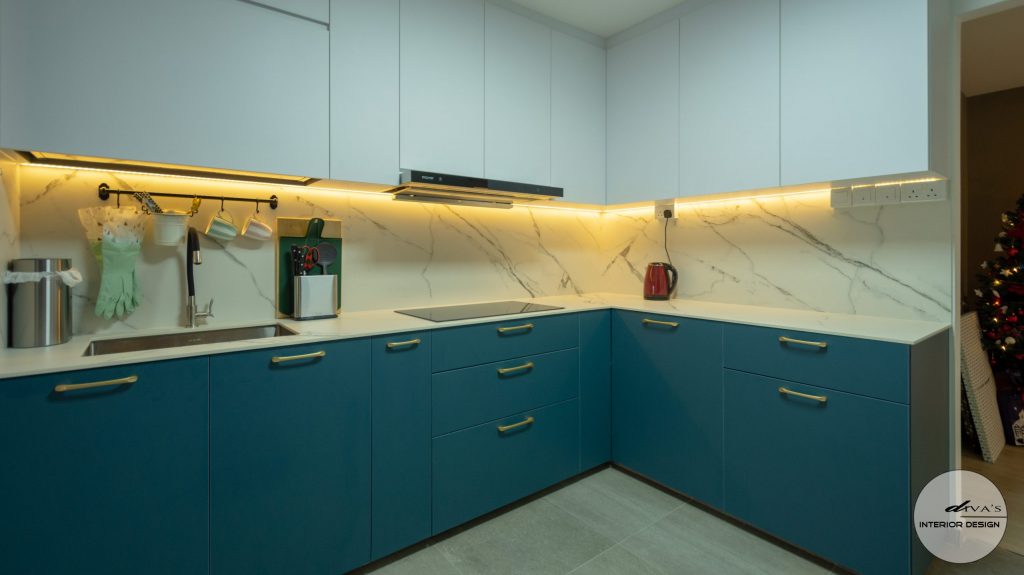 1. Follow HDB resale kitchen renovation rules
In Singapore, when you purchase a resale property, you can always renovate the kitchen for your own use. However, there are certain HDB resale kitchen renovation rules that you need to follow. HDB is a government organization and they provide housing to people in Singapore at affordable rates through the Housing & Development Board.
While basic guidelines cover the types of contractors you may work with and the kind of hacking activities that can be carried out in a HDB, as well as approvals, there are particular rules and regulations for kitchen renovation:
For pipes: When remodelling your kitchen, you are not permitted to install any new concealed pipes. All new pipes must be installed outside.
Timing: On weekdays and Saturdays, general improvements may only be completed between 9:00 a.m. and 6:00 p.m.
To plumbing: only use a PUB (Public Utilities Board) certified plumber.
For floor finishes: in toilets, a waterproofing membrane is applied on the cement screed. This stops water from leaking through the flooring and into the ceiling of the apartment below yours. As a result, if hacking floor tiles is necessary, proper waterproofing should be performed to prevent water leakage. Furthermore, the toilet floor and wall finishes given by HDB/developer shall not be replaced for a period of three years from the block's completion date. You can, however, use adhesives to put new toilet floor finishes over the old floor finishes.
2. Factors that determine the cost of your kitchen renovation
There are many factors that determine the cost of your kitchen renovation in Singapore, but one of the biggest ones is how much money you have to spend.
It's not always possible to get everything on your wish list when it comes to a kitchen redesign, but there are ways to save money and still create a beautiful space including your furniture, water purifier or water dispenser. Here are some renovation tips for keeping costs down:
There are two kinds of renovations: partial and total. Of course, these are the primary elements that will influence the cost of your kitchen makeover.
First, identify what will remain the same and what will change. If all you need is to dismantle existing cabinets and install new ones, you'll have to pay for hacking and new cabinets. The cost of new cabinets is determined on their length.
If you are planning a complete renovation, you will need to consider the expense of chopping the tiles, purchasing and installing new ones, as well as labor rates. Include the cost of installing new cabinetry.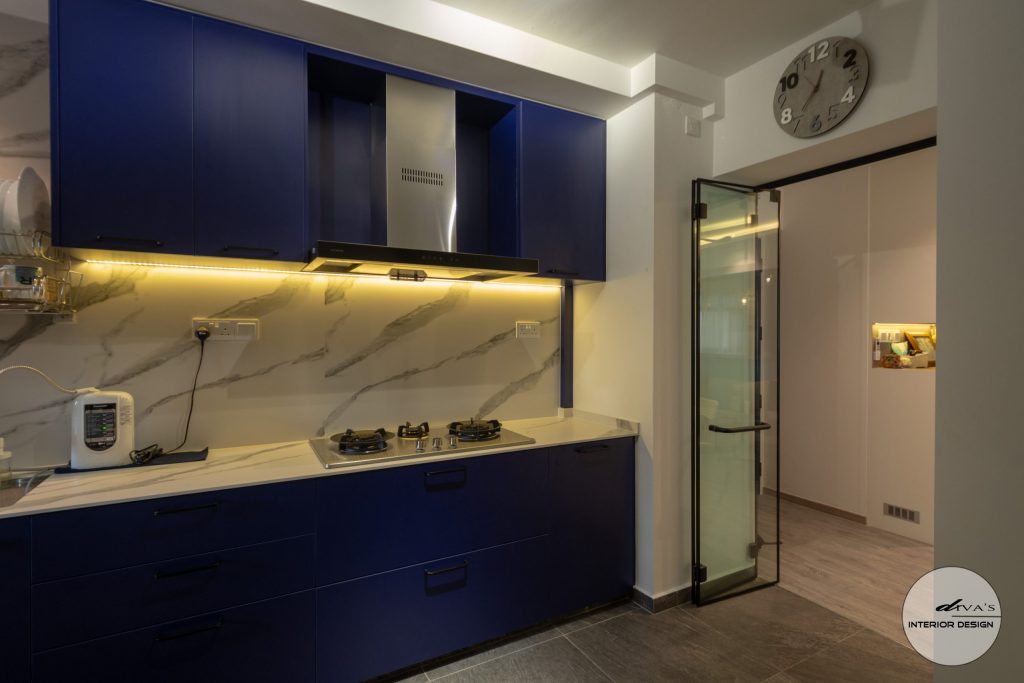 Because the kitchen is considered a wet environment, adequate waterproofing and ponding (the application of static pressure by beating water on the interior face to identify water leakage) testing should be performed. This will also increase your expenses.
Finally, there is the expense of hauling the tiles once they have been installed, as well as the cost of acid-washing them.
3. Things to keep in mind before renovating
Renovation projects are always expensive and it's usually difficult to draw up a clear estimate at the outset.
While costs vary from job to job, if you're planning a major kitchen renovation project, it's important you know just what you're signing up for.
There are five major things that you should take into consideration before estimating your kitchen renovation cost:
Materials – What kind of materials will be used? The total cost is determined by the type of material chosen. Take into account the quality and durability of such materials as well. One factor in determining the price is whether or not installation is included. The total cost may increase depending on how complicated the installation will be.
Location – Where your kitchen renovation project in Singapore takes place can also make a difference in the final price. If you do your own project, will transportation costs be involved?
Time – Because renovations are very expensive to begin with, they can become even more costly if the project takes longer than expected. Make sure you give yourself ample time for your kitchen renovation and that it's completed within that time frame.
Size – The size of your kitchen project plays an important role in determining the cost. If you're doing a total renovation, it's best to start out small and slowly add on as you progress. You can also save money by doing a partial renovation instead which means only changing some parts of your kitchen.
Planning – A proper plan is crucial for any home improvement project. Take into account all possible scenarios before deciding on a particular style or design. Keep in mind that the more detailed your plan, the less likely you'll encounter problems when completing the job. 
4. Kitchen renovation mistake to avoid in Singapore
A common mistake in Singapore during a kitchen renovation is to get caught up in the design considerations. You should ensure that you take what you want into consideration before finalizing your plans. 
One of the main mistakes that you can make when renovating your kitchen is not considering how much space you'll need for any appliances. A kitchen renovation specialist will be able to help you with a redesign should this happen to you as they are experienced in the needs for a variety of kitchens.
A mistake that has been made by many homeowners is choosing an impractical design. If you want your kitchen to look nice, then don't choose a design that only looks good from one angle. Make sure that the design is functional and will look good from all angles. 
You should not rush into a kitchen renovation. A rushed job will never turn out good, especially if you are doing it yourself as rushing can lead to mistakes being made. It's a great idea to plan your budget carefully beforehand so you know how much money you have to spend on everything. That way, you won't go over budget by accident once the renovations start.
When planning your kitchen remodel in Singapore, make sure that you think about what kind of appliances that will be used by your family. There's no point designing a kitchen with lots of work space only for one person to use it everyday when everyone else only uses the single oven! If you can, do some of the renovation work yourself to save on costs.
If you are working from a tight budget, be sure to include the cost of labor into your calculations as unexpected problems will arise during this time and that will quickly eat up any money you saved by choosing cheaper cabinets. It's also very important for you to make a detailed plan for every stage of your kitchen remodel in Singapore so that there is no room for confusion when it comes down to executing them like how much materials need and the overall measurements needed. 
Kitchen renovations are a big investment
But the right planning can make them more affordable. Make sure you have an idea of how much time and money your kitchen renovation project will cost before starting to avoid any unforeseen expenses.
One way that homeowners save on costs is by doing some of the work themselves, which also gives them insight into what's involved with each task so they know better when hiring professionals interior designers.
It's important to plan every step in advance for efficiency as well as making sure things like appliances are taken care of during the design process or else it'll be too late once construction starts!
If you need help getting started with this detailed process then reach out to our team who would love to partner up with you through your home improvement journey.
Would you like to redo your kitchen but…
.. are unsure of the best way to go about it? Divas Interior Firm from Tradehub 21 can lend a hand with the design process and also help with any mistakes that might occur during the remodel. We will be able to help with all aspects of the remodel such as designing your kitchen, ensuring that it's practical for what you need as well as attractive. We offer guidance through every step and are licensed home improvement contractors in Singapore.
We will take care of everything from design and budget planning to construction so all you'll have to worry about is worrying about cooking up some new dishes! Reach out now for more information on our services or just ask us for a quote in order to get started on your kitchen remodel project.