The kitchen is one of the key features in a house, it can be said that the kitchen is the busiest spot in the house. It is the reason why kitchen renovation ideas in Singapore required detailed attention. HDB kitchen renovation ideas are not only about creating a new look on your kitchen, but it needs a further plan for the installations such as water, gases, and electricity. 
A kitchen won't be perfect with the new and clean looks only, perfect calculation about crucial installation and waste management also play important roles in determining the performance of kitchen renovation ideas. Here are some of the kitchen renovation points that you might need to consider in changing the layout of your kitchen for a better look and function.
Open-Concept Kitchen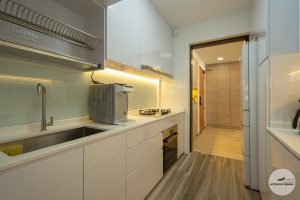 The open-concept kitchen is now famous around the house, many young people prefer to have an open kitchen instead of separate them into a single purpose room. The open kitchen is not only famous among young people who prefer minimalist living, but it is also applicable for HDB 4 room kitchen renovation ideas, HDB 5 room kitchen design, and even for houses with a large family member. 
An open-concept kitchen doesn't mean limited appliances and spaces, because the design can be suited to any condition of the house. The main feature of open kitchen Singapore is hiding the messiness of kitchen appliances and accessories to give a clean and open look. Maximum storage design plays an important role in an open kitchen, so the kitchen can be blended with other rooms, especially the dining room. 
Single Wall Kitchen
A single wall kitchen is suitable for those who are living in a small space or studios, the main purpose o a single-wall kitchen is to install the appliances and accessories in one wall to maximize the limited space you have. 
This idea is suitable for those who have an interest in small kitchen renovation ideas, or those who prefer a simplified kitchen with major appliances only. Most of this type of Singapore kitchen is applying minimalist and modern design, some adjustments will be required to maximize the entire function of this small kitchen. 
Although a single wall kitchen might look small and incomplete, appropriate adjustment might help you to create a fully equipped kitchen where you can have an oven, full-size refrigerator, and a washing machine in a single spot because some single wall design makes it possible to make those appliances invisible. 
Open Shelving Kitchen
This design has been gain attention for decades. This design is still becoming one of the favorites. After all, it allows the owner of the house to see the kitchen appliances directly because each of them is not hidden behind the enclosed cabinets. 
However, this design is now seen as ineffective, because it might give a crowded atmosphere as it may make the kitchen looks messy if you cannot arrange the equipment properly, besides it is also dangerous if you keep some of the utensils on an open shelf. 
Today, people prefer to have a half-open shelving HDB kitchen design where they can keep some appliances hidden while keeping the regular utensil easily reach on an open shelf. 
Kitchen Island
A kitchen island is a perfect solution for you who want to blend kitchen and dining in a single space. It is not only equipped with kitchen cabinet design but also some smart kitchen system that is suitable for modern life. The size of a kitchen island can always be adjusted to your need, it can be purchased as a whole set or you can also design the kitchen island based on your need. 
It is also available in various design, prices, colour, and arrangement, so it fills fit to any interior theme. Although some of the kitchen islands are available in a small size, the kitchen island might not suitable for those who live in a small studio.
Are you still confused about how to renovate your kitchen and what to do best in getting a high-functioning kitchen? Why don't you try to contact us Divasnterior to help you with the arrangement?
We have been awarded for our excellent performance and our customer package service will help you in deciding what is best for your kitchen renovation.