If you're looking to get a kitchen renovation, don't rush into making decisions based on random material or design preferences. Make sure you do your homework before finalizing your choices. We've got you covered. The best kitchen countertops should be at the top of your priority list. Get them now. If you cook your meals, you know the kitchen countertop takes on a lot of the heavy lifting when things get chaotic.
There are a lot of different types of countertops you can choose from. Some materials that you have not heard of may be new to you. You need to weigh the advantages and disadvantages of every material before you decide.
Some kitchen countertop material Singapore may prove to be too expensive to maintain for most people. Kitchen materials include slab granite, engineered stone, solid surface material, and traditional laminate and ceramic tile. But it's best to rule nothing out until you learn a little more about each option. 
Laminate kitchen countertops 
The best laminate kitchen countertop Singapore are made from thin layers of plastic laminate material bonding to a core of particleboard or MDF. There are over 100 colors and styles to choose from for laminated countertops.
Pros

Cons

Emulates the look and texture of natural materials, including wood and marble

Non-porous and durable

Resistant to heat, stains, and spills

New laminates in the market are anti-fingerprint

Direct impact with a sharp object like knives and scissors can result in chips

Prolonged contact with hot cookware can cause it to melt

May become warped over time
Solid kitchen countertops
There are many types of kitchen countertops. The most popular ones are made of a mixture of synthetic acryl PMMA (PMMA) (40-60%) and this kitchen countertop material is nonporous, antimicrobial, and easy to clean. It makes a great option for smaller kitchens.
Most people choose solid surface materials because they are easier to clean, prolonged, and maintain than their available alternatives. They are also relatively easy to repair, so they last longer than their alternatives. This is a great way to get rid of those scratch marks that are often left after a rough-housing game.
| | |
| --- | --- |
|   | |
| Pros  | Cons |
| Durable kitchen countertop design material | Not heat-resistant and impact-resistant. |
| Variety of colors and patterns to pick from. | It is not stain-resistant. |
| It can be made to look like marble or concrete. | |
Engineered quartz kitchen countertops
To make engineered kitchen countertop quartz, crushed natural quartz is combined with another material. This combination can create the perfect countertop design material. It is available in a range of colors and has a high endurance level.
The advantage is that engineered quartz surfaces are not as porous as natural ones. You won't have to worry about stains or growth on the surface.
| | |
| --- | --- |
| Pros | Cons |
| Stain, scratch, and impact-resistant | Costs are higher than alternative solutions. |
| A broad spectrum of hues can be used. | Sewn-in seam joints are visible. |
| Non-porous and hygienic | Not much resistant to heat due to resin |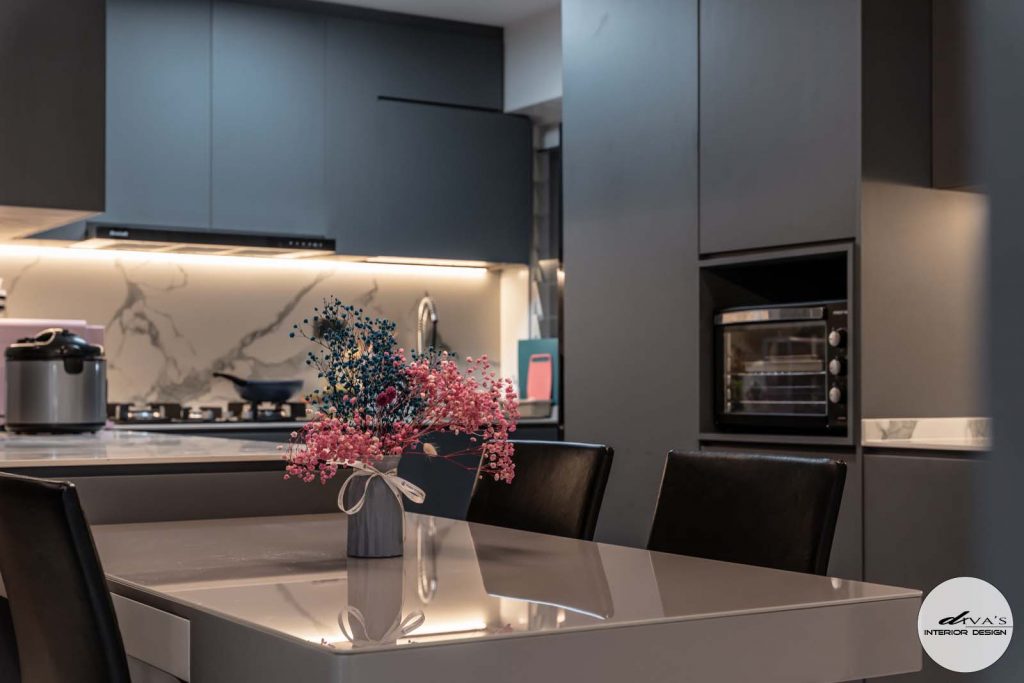 Natural stone kitchen countertops
Kitchen countertop granite or marbles are the most popular and durable of the natural stones used in the kitchen. Natural stones such as granite and marble are considered to be more eco-friendly. This is the best option if you are worried about the environment.
| | |
| --- | --- |
| Natural Stone | |
| Pros  | Cons |
| Appears to be elegant. | It might be pretty costly. |
| Wide choice of colors to choose from. | It should be cleaned as quickly as possible. |
| They are durable and may last for years.  | Professional installation is necessary. |
Wooden kitchen countertops
Every piece of natural wood has a unique pattern, just like every natural stone doesn't look the same. Wood and butcher block are excellent materials to use on countertops. Wood has the same flaw as natural stone: porous layers. To keep water from leaking into wood counters, you need to use a non-toxic sealer.
| | |
| --- | --- |
| Wood | |
| Pros  | Cons |
| Different qualities can be achieved | Gets stained and scratched easily. |
| It can last up to 20 years. | Expands and contracts with temperature |
| Clean using regular household cleaners | Damaged wus long exposure to moisture |
Stainless steel kitchen countertops
made of galvanized steel are widespread in commercial kitchens because they are durable and attractive. The right tile, cabinets, and countertops make a small contemporary kitchen look unique. The counter is more expensive than the natural stone one because of this. The price is well worth it because of the material's heat and rust-resistant qualities.
| | |
| --- | --- |
| Stainless Steel |   |
| Pros  | Cons |
| Tailored to match the needs of the kitchen. | Can harbor bacterial growth easily. |
| Most accessible surfaces to keep clean | Scratch-prone; gets dingy with time. |
| Water, stain, and heat-resistant | susceptible to dents. |
Pick your kitchen countertops with Diva's interior
It is vital to weigh the benefits and drawbacks of each kitchen countertop material before you decide on your kitchen renovation plan. The finish look and function can be affected by the countertop material you choose.

To ease you up from all the drama, Diva's interior is here to help you achieve your best kitchen countertops to ease you up from all the drama. Why us? We don't just design a home; and we make sure that it is built to last and so does your kitchen countertops. 
What are you waiting for? Call us at +65 6462 3833 or visit our office at 18 Boon Lay Way #01-136 Tradehub 21, Singapore 609966.