Whether you have a big or small budget, home renovation in Singapore costs can quickly spiral out of control. Knowing how to renovate a house with a budget-friendly can be helpful. Here are some tips for you to manage and achieve a renovation that works for your budget and your home.
7 Checklist Home Renovation Budget
1. Home Renovation Checklist
No matter how small or big your project is the key is having a home renovation checklist. Even you work with the best home renovation contractor like Diva's interior design company you can better prepare your renovation with a solid checklist and keep abreast of what's going on, what's next, and what is your expectation as you get along.
Consult a professional.
If necessary, stabilize the structure.
Plan for site access.
Perform disassembly work.
Relocate any plumbing or drains.
Major renovations.
Minor renovation and flooring.
Final punch list.
Dry the house.
Do decorate, relax, and make a celebration.
2. Pay Professionals for the Important Jobs
By doing some job by yourself, you may think that you are saving money. But, your cost will be much higher if you do fail DIY efforts. When it comes to DIY home renovation in Singapore, knowing your limitations is the most important.
Engage professional in all structural and plumbing, electrical work unless the qualified one in the trades is yourself. At least, always get three quotes, but remember that a better thing doesn't always mean cheaper. Make sure your money to spend is worth it and get recommendations from past clients.
3. Work Together for the Easy Jobs
There is a lot of renovation work that you, your family, and your friends can do on your own, so prepare the working bee for that work. The following things can easily do by many people if they try:
Painting (although never skimping on preparation)
Landscaping
Fencing
Stripping and polishing floorboards
Assemble a flat-pack kitchen
Tilling jobs in a simple way.
4. Consider Renovations That Can Yield Long-Term Savings
When the budgets are tight, we tend to ignore the long-term savings of material or energy-efficient technology. Some basic home renovation ideas can be included in your renovation. They are like rainwater tanks, LED lights, solar panels, and good quality insulation.
5. Get Creative with Your Fittings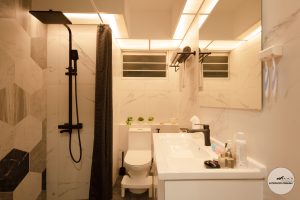 With affordable updates like 'mood' lighting and new paint, you can make a big impact. Things like repainting or resurfacing basins and baths, bathroom tiles, can improve your home look dramatically with only a little expense.
Get help by consulting a colour consultant at a local paint shop near your house. A fee may be charged by some paint retailer to make an appointment. Or talk with the showroom staff in bathroom or kitchen stores. You can get some ideas from the experts about how to use shoestring to spruce up your home.
6. Where to Stay During Home Renovation Singapore
Loud drilling and dirty surfaces can be frustrating, especially if your renovation process is long. Additionally, you may not have a working toilet, running water, or electricity at certain times. You would not want to be in the way of your contractor's work.
Consider moving while the work is in progress. Stay with a friend or relative who has an extra bedroom and doesn't mind being accompanied for extended periods is the easy solution. Or if you can afford it, stay at a service apartment or a hotel that is equipped with a kitchenette. Rent a place according to your necessity and pay attention to your renovation cost.
You may hard to swallow this pill, but sometimes your expectations must be adjusted to fit the amount you need to borrow, and your budget. So, write down one must-have list and another that is great to have. Concentrate on the things you simply can't do without.
Conclusion
Home renovation is a long-term investment that can help you secure your home in the future. If you take the risk of a less expensive but unprofessional contractor, your well-designed concept will be a nightmare. Be active and vigilant in the construction process and choose the right interior design company as your partner.
Diva's interior design is the right choice for your home renovation in Singapore. With various certificates of assessment, we are a professional and reliable company that provides the best interior design and renovation services for you. We also offer custom packages to adjust your project planning and desire.