It's a common complaint: "I keep my kitchen clean, but I can never get it completely clean due to kitchen backsplash." But we have a solution for you. Tile is a good choice for most countertops because it's easy to clean, as opposed to granite, which requires frequent maintenance. There are lots of tile options to match almost any kitchen décor, from traditional tiles to mosaics, and even tiles that come in many different designs and colors.
Due to the fact that innovative designs and patterns are being created to suit just about any interior style imaginable, tiles are one of the most versatile building materials. The tiles give a clean look and compliment the rough look of the countertop.
These are some of the most popular design ideas for the latest kitchen tiles design for you to apply:
Mosaic tiles design
Mosaic is a decorative technique in which small pieces of colored stone, glass, or ceramic are arranged in a regular pattern. It's used in flooring, wall coverings, countertops, and more. The same can be said for mosaic tiles, which are the same as classical ones in terms of color. They're also used to create walls that are very similar to those created by Classical mosaic walls. They also sometimes look like a small kitchen tiles design.
Kitchen tile ideas don't have to be complicated. There are many options available that you can use to create an easy-to-install mosaic effect in the kitchen, such as tile, vinyl, wood, and even glass. Mosaic is an easy and affordable way to create stunning and colorful floor and wall coverings for your home. You can choose from a variety of popular colors to mix and match for a one-of-a-kind look.
Subway kitchen tiles design
Subway tile is an economical and classic choice for a kitchen. It is also a simple kitchen tiles design. Whether you want a bold, contrasting look or a look with a little more simplicity, grout colors are the secret to making your kitchen look fresh. One of the best things about subway tile is its variety of patterns in which it can be installed. To add unexpected elements to your home, install neutral colors in unexpected patterns.
Apply stone and marble tiles design
Classic stone and marble that showcase luxurious colors such as beige, gray, white, and oftentimes gold or silver, are just some of the tiles used in many of the modern classics. Due to their size, these tiles can easily cover up the entire space with just a few pieces and give off a smooth finish. This will give your kitchen a look of modern kitchen tiles design.
Natural look kitchen tiles design
The look of wood tile is perfect for the kitchen, and every home should have this as the main piece. Wood tiles are simple, rustic, and will add a touch of warmth to any home. Many people, regardless of their line of work, have always looked to nature to find inspiration to relax. What's better than bringing a bit of nature indoors? You'll find out all about it in this guide to decorating and landscaping with plants and flowers.
Wood tiles can be used on your kitchen walls to bring in nature. They have a lot of wood variations to choose from, and they give off the right amount of raw nature while maintaining a more polished and well-put look. It provides a focal point in the form of kitchen wall tiles to balance out the open space in the kitchen.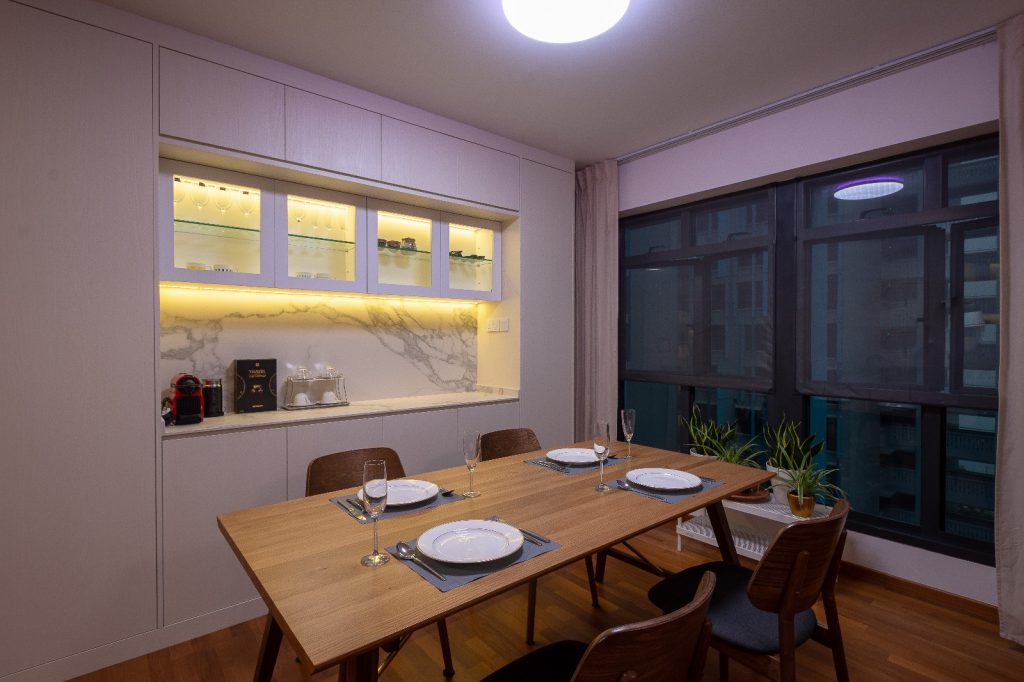 Moroccan and Spanish tiles design
The Moroccan and Spanish tiles are also being used in kitchens all over the world. They are beautiful and provide a wonderful look to your kitchen. And no, this doesn't mean it comes all the way from the cultural cities of Spain and Morocco; but rather how it's made and how it looks. Moroccan and Spanish tiles, also called 'majolica', are tiles made out of local clays and painted with unique designs that give off a bright, almost ethnic-looking aesthetic.
The tiles derive Arabesque motifs such as Ogee and incorporate them into their designs. There are tiles that have the same pattern. Some have variants that complement each other. Colorful tiles can be used in a plain neutral kitchen to create an eclectic look that is both culturally diverse and a break from the norm.
It can also be used as the kitchen's accent wall and as a kitchen's backsplash.
Things you should consider before choosing kitchen tiles design
A number of kitchen design tiles options are available to you, including porcelain tiles, stone tiles, and glass tiles. Kitchen countertops are usually made of small tiles, which make them less slippery and easy to clean.
The best kitchen tiles installation is perfect if you have a smooth, flat and clean surface to lay them on. Leveling the floor before installing tile requires that it be leveled by a professional or it will likely be uneven.

The answer to your perfect tiles is here
And if you still can't decide which of the tiles best fit your kitchen wall, it's best to get an interior designer to help you choose. Diva's Interior with mission and vision to give affordable and efficient work with quality and transparency will make this process fun and exciting for every homeowner.
What are you waiting for? call us at +65 6312 3833 or visit our office at 140 Paya Lebar Road #01-20 AZ @ Paya Lebar, Singapore 409015 and 18 Boon Lay Way #01-136 Tradehub 21, Singapore 609966. We gladly welcome you!