Are you thinking of buying a study table, but looking for something a little different that will still provide you with great value?
Then look no further! Because we will give you 7 smart hacks that will help you make the most out of your IKEA study table. If you are looking for home office design ideas in Singapore, or if you want to design your HDB bedroom that comes with a study table, you come to the right place. We know that it can be a struggle to find an affordable study table and desk combo that would meet your needs.
IKEA study table is definitely one of the cheapest options available on the market if you're looking to save some cash, and it's easy enough to assemble. So you don't have to worry about spending a lot of money on furniture that isn't of high quality.
In this article you will learn how you can make the most out of your study table by using IKEA hacks to create a stylish and attractive study table. So, here are 10 smart ikea hacks to make the most out of your study table:
#1 – Make a built-in desk
You can easily transform your study table into a built-in desk by using this hack. All you need to do is get the table from IKEA for $80 and add some storage boxes under the table top. Voila, you will have a simple yet attractive desk. This way you will get extra storage space and it will be easy to hide the study table when you are not using it. It is a perfect desk hack for small spaces where there is no room for a separate desk.
#2 – Make your study table look like a secret bookcase
It's really simple to do and all you need is a little bit of creativity. First, find a place where you can place the bookcase. Next, build the bookshelf (2x2m) using plywood and put it on the wall with brackets. Then, cover the bookshelf with a hardboard, paint it and cut out some holes for door knobs. Finally, put all your books in! This board can be easily pulled out when you need to access the bookcase. This way, you can keep your study table organized and also make it look cool at the same time.
#3 – Label your IKEA drawer
You can use IKEA drawers to store small things. Instead of keeping your stuff in a messy pile, you can organize them by placing the drawers on top of each other. To make it neat and easy for you to organize, use stickers or markers as the drawer labels.
 #4 – Get creative with the lampshade
Don't throw away old lampshades that have seen better days. You can easily turn them into attractive lamp shades for your study table. Cut off the bottom part of the shade and paint it in the color of your choice to use it as a lamp shade for your study table. You can also make your study table look more unique by putting some lights under the table. It will look amazing and very useful when you study in the dark.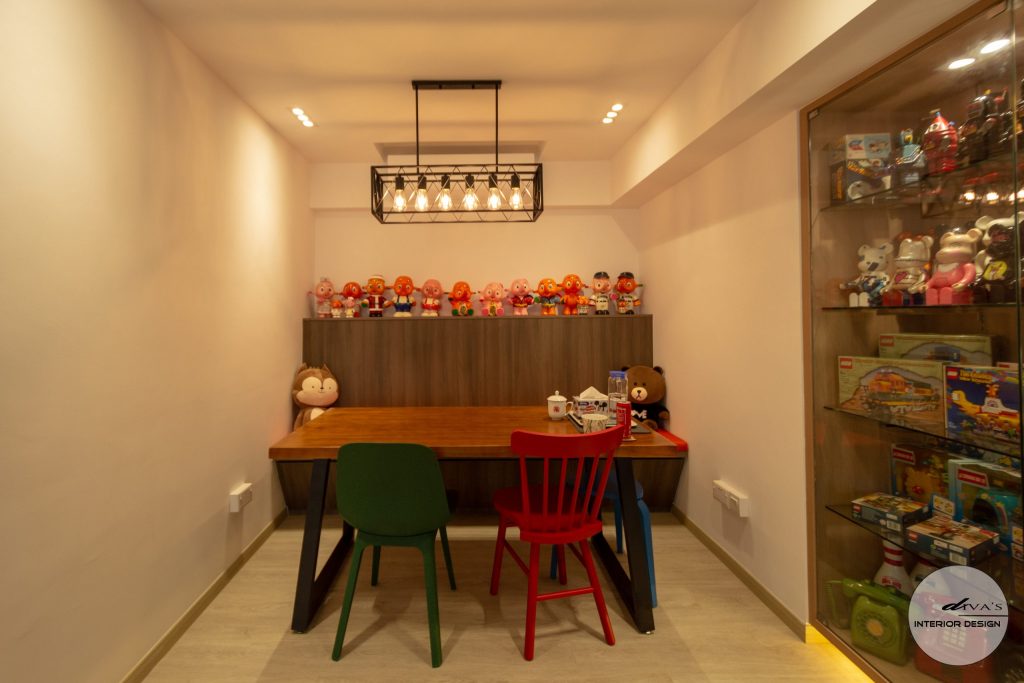 #5 – Make more storage
If you have an old storage box lying around, then why not turn it into a handy organizer for all your stationery items? Simply cut out holes to accommodate the pens and pencils, glue the lid on and decorate with washi tape or stickers. You can also use this storage box to store paper clips, rubber bands and other such office supplies.
 #6 – Use the wall behind your table
Don't forget about the wall behind your table. You can easily create a chalkboard and make notes on it. You can also paint the wall behind your desk in order to personalize it and make it more attractive. If your HDB home office is small, you can make use of the wall by installing a desk countertop. This hack is also functional as it can make more storage for you.
#7 – Use the extra space for decorations
For instance, you can get an IKEA Kallax shelving unit and use the extra space on top of it by adding some accessories like a lamp or a decorative vase with flowers. The surface area on top of this IKEA product is large enough for a small decorative object. If you want to make your home office more personal, you can decorate the Kallax shelving unit with some framed pictures of your family or loved ones. It's a great way to add some color and style to this basic furniture piece. In addition, it will also help you create a warm and welcoming environment in your home office that is ideal for working.

Design your study table with Divas Interior
Finding the right interior design firm to turn your house is a chore. It's where you can get help and assistance from experts to find the right design that suits your needs.
Divas Interior is a leading interior design firm with years of experience in this field. We can design a study table for a HDB bedroom, home office, or if you have an open concept study room, etc! We offer full-service interior design services from initial consultation and measurement, concept planning, design development, 3D modeling and rendering, material sourcing and coordination of installation to complete project management of your designs until you are completely satisfied.