Having a bedroom with a study table, whether it's a small or large one, makes life simpler. If you work from home, you'll need a working desk in order to be productive. So, why not make place in a peaceful area of your master bedroom for it?
When choosing a study table for your master bedroom, you must consider storage capacity, size, and even appearance. For rooms of different sizes, here are some of our favorite HDB bedroom designs ideas with study tables. If you have a small room, a large master bedroom, or simply prefer a minimalist style, this is the one for you!
Custom Built Workstation
A wall-mounted unit is a popular and space-saving trick for any area. Furthermore, these elegant units make the most of the available wall space. This stylish study table is made of wood and grey tones. This study table for a bedroom offers lots of storage space for books.
Wall-mounted Study Table Design for Bedroom
Unlike the others, this unit is minimalist and can be used for small bedroom and large bedrooms. As a result, if you're looking for a multi-purpose unit that can also serve as a vanity, this is the solution for you. We chose a wall-mounted ledge desk with drawers for this HDB bedroom designs with study table. To complement the other storage units in the area, this unit is built of a light hardwood laminate.
Multipurpose Platform Bed With Study Table
This flat is compact and unique. With two small rooms, install custom made beds and study units to fit the space like a glove. This HDB bedroom design with study table makes the most of your space, offering simple but maximum functionality. Additionally, these units made of oak laminate and plywood come with plenty of hidden platform storage to boot.
Home Office With Bedroom and Study Room Combined
This HDB bedroom design with study table was created for a couple who wanted their rooms to double as home offices. To give the tiny area a big sense, all of the interiors were painted in a brilliant white color. This unique study area with bed is perfect for compact bedrooms with limited wall space. It is meant to fit against the available wall and has a simple designs with clean lines.
Study Room Design With Bed for Spacious Bedrooms
A big bedroom doesn't necessarily call for a sizable study unit. Here, this cool grey toned bedroom has a complete workstation with ample space for office equipment, a computer. Wardrobe and even a bookshelf. 
To make the most of this HDB bedroom design with study table you can Install a wall to wall unit next to a window with a floor to ceiling bookshelf to maximise storage. Install the unit below the window ledge to let in as much sunlight as possible.
Open Storage Study Room Design With Bed
If you're looking for a HDB bedroom design with a large study table and plenty of storage, this is the one for you. This study table unit with open storage is great for collectibles, wardrobe and coffee table literature. The vibrant orange chair gives the beige unit a splash of color. You might even combine it with a closed storage cabinet for wardrobe, gadgets and books.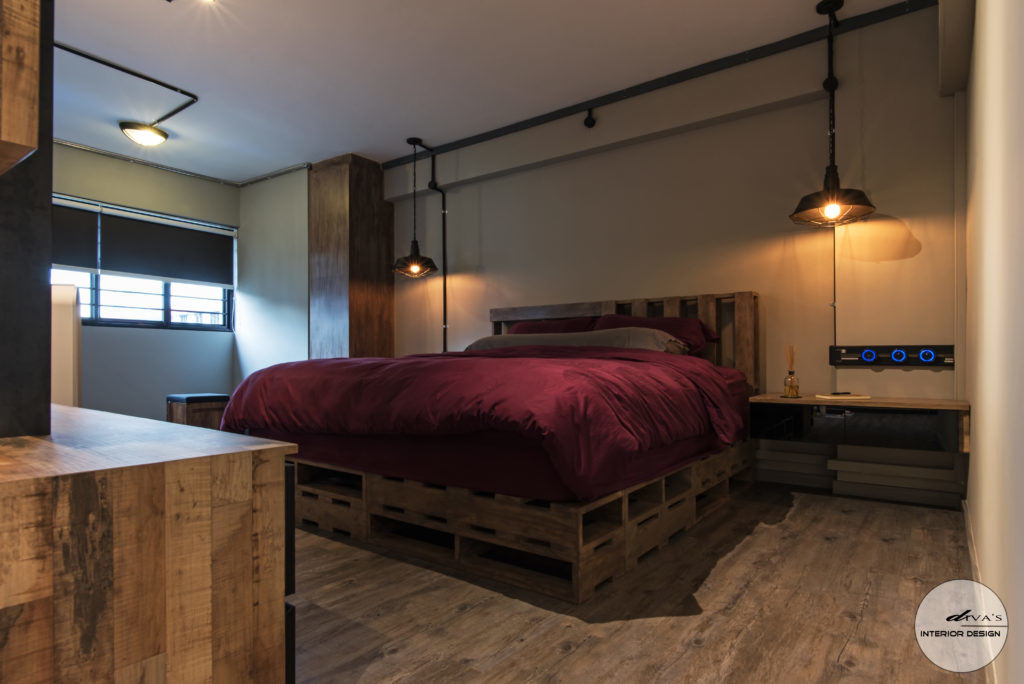 Ceiling to floor Study Table Design for Bedroom
Here's a HDB bedroom design with study table your kid is going to love using. This space is custom designed and packed with plenty of open and closed storage modules. Moreover, the walls have fun colours all over matching with the theme of the room. Ensure that your unit has an ergonomic chair for those spending long hours using these study tables.

Hope you found this hdb bedroom design with study table ideas useful! If you want your home to be just as beautiful, then look no further. Book an online consultation with Divas Interior today.
With Divas interior, you will gain materials and colour scheme proposals and other professional services, still based on your budget and needs. Contact Divas Interior now