Fyve Derbyshire is located in Novena, a city location in Singapore's highly sought after Prime District 11. It is a private yet centrally located freehold urban sanctuary with 71 exclusive residences of uncompromising quality spread across 19 storeys, each with only four units. Fyve Derbyshire for sale has been thoughtfully designed to appeal to your five senses of sight, sound, smell, taste, and touch. If you are looking to invest in a luxury home that provides a worry-free living experience with access to the best facilities, the upcoming new launch condominium at Fyve Derbyshire price list may be just what you are looking for.
2-Bedroom type A1
When space is already limited (560 sqft), having a dedicated dining area may be difficult. As a result, make your dining space work harder for you. Choose a table that can also serve as a home bar or a kitchen island.
2-Bedroom type A2
This type is 592 sqft, setting aside a seating area in the bedroom may seem like a complete waste of space, but it actually gives your bedroom more purpose than just a sleeping area. A floating bay window area creates the illusion of a light and airy space, while LED lights add ambience to the room. It provides the ideal setting for a cozy reading nook while also providing additional storage space via its under cabinets.
Consider doubling your headboard as a storage space in the master bedroom with the same layout. Go full height to add grandeur and create pockets of open shelves to display some of your items while also serving as a nightstand.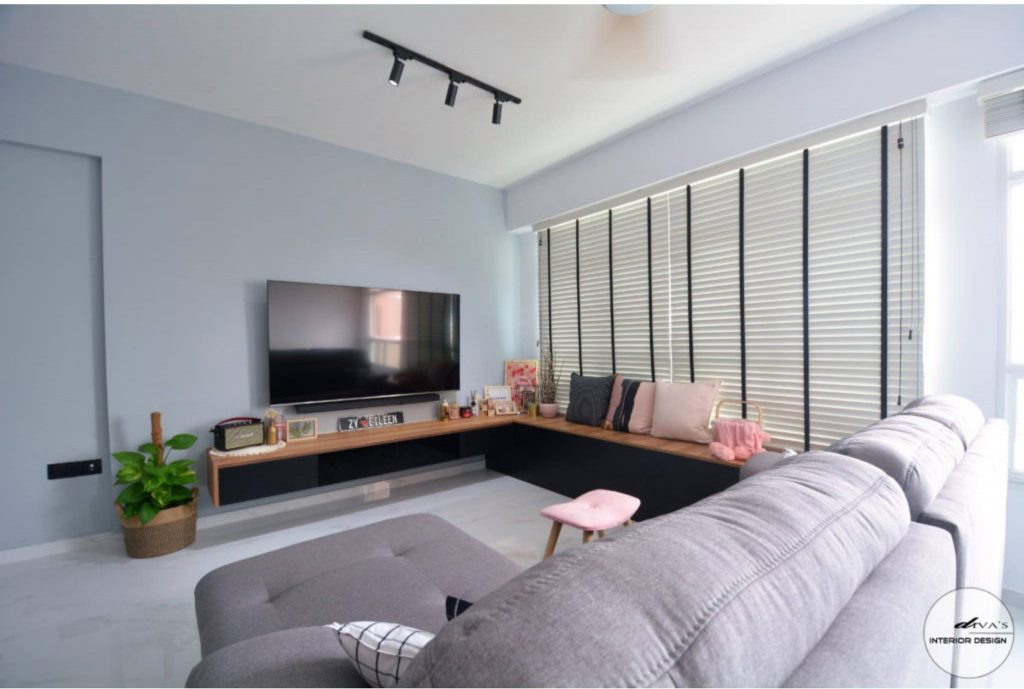 2-Bedroom type A3
With this type of balance units for 657 sqft, most people would place the TV to the side, against a wall. However, erecting a TV wall in the middle of the living and dining rooms creates a barrier between the two areas. Choosing a swivel TV also means that TV viewing isn't limited to the living room.
Because common bathrooms are typically smaller than master bathrooms, you'll want to make sure there's plenty of storage space for essentials and extra toiletries. You have the option of extending your upper vanity cabinet all the way to above the toilet, or you can go with open shelves, as shown here.
2-Bedroom + guest
The balcony, which is covered in an artificial green carpet, adds vibrancy to this space. The space has an open concept to bring the outdoors in, but tinted sliding doors are present in case the balcony needs to be closed off.
This type is 797 sqft, having a flexible guest room means you can use it when you have guests over, and when they leave, the space will not go to waste due to being unused. A Murphy bed is an excellent choice for a guest room because it can be stowed away when not in use. We like how it's built with full-height cabinets here, so you can make the most of your storage space.
3-Bedroom + guest 
This type is 936 sqft, a built-in ledge in the shower area serves as a display area for your toiletries, a footrest for when you need to scrub between your toes, and a perch for a more relaxing bath experience.
Unwanted visitors are kept out of your private spaces by installing a hidden door to your bedroom. However, it also creates a more visually seamless appearance from the living room, ensuring that the door's appearance does not detract from your design.
How to decorate my home in a Fyve Derbyshire floor plan so it's practical, beautiful and affordable? Have been dreaming of redecorating my home for ages. The problem is, not have a huge budget for the job and want to make sure that the money spent will be worthwhile.

When you need an interior designer in Fyve Derbyshire floor plan, there's only one name to remember. Divas Interior Design are experts at creating gorgeous interiors that are both stylish and functional. Their stunning designs combine classic styles with modern flare and they regularly transform homes into beautiful living spaces that clients love. All of their services are carried out with the utmost care and attention to detail, ensuring that every project is completed to a high standard. They work closely with clients to understand their needs and create interiors that they will love living in.
So if you're looking for an interior designer for Fyve Derbyshire launch date, look no further than Divas Interior Design. With over many years of experience behind them, they have helped countless clients achieve the dream fyve derbyshire review they always wanted. Contact Divas Interior today for more information!