False ceiling design for bedrooms is becoming a popular request in 2022. False ceilings work much better than actual ceilings. False ceiling designs are available in any type of room, but they are most frequently found in bedrooms because of the many benefits.
In this article, we will tell you everything you need to know about false bedroom ceilings and 8 stunning false bedroom ceiling design ideas that could inspire your next bedroom renovation.
What is a false ceiling?
A false ceiling is designed to fit under the original ceiling. False ceiling design often uses wood or metal frames, and the illusion it creates of a lower ceiling sometimes features parts of the original ceiling on display. It's called the 'dropped ceiling.'
There are several options for building a false ceiling, from custom-made designs to prefabricated panels. Regardless of the size of your room or whether you are making a single or double, false ceilings can be built for your home. 
The benefits of using a false ceiling in your bedroom
A False ceiling can create a fancy lighting mood.

A false ceiling can hide particular flaws or conceal some wiring up there. 

A False ceiling can hide any exposed beams in the construction.

A false ceiling provides insulation and reduces noise levels.

Nevertheless, they can be fire- and water-proof as any other type of ceiling.
The cost of a false bedroom ceiling in Singapore
False ceilings are often used to cover up your actual ceiling, giving your house a cleaner and more minimalistic look. It can cost anywhere from $2.50 to $3.50 per square foot.  However, if you want to go all out and make your home look like a modern loft, you might be willing to pay more. The price depends on whether you have a small bedroom ceiling design or not.
Bedroom false ceiling design ideas
Layered tray
It would be elegant if you chose this modern design that is charming but not pretentious or in other words, it's a simple bedroom ceiling design. Tray ceilings are pretty simple for a simple bedroom design and work well. This ceiling doesn't have any particular layering design, so it lacks visual appeal. Then it is a chance for you to include a centerpiece that catches attention; it's a great place to start.
Coffered false ceiling
Coffered ceilings are cross-hatch patterns. These are versatile as they can be made of gypsum, POP (Plaster of Paris), or even wood.
Wooden bedroom false ceiling
The beautiful wood grain finish on ceilings creates an inviting atmosphere in any space. These are typically not affordable for a medium or large-sized commercial building, and their cost makes them ideal for high-end residential towers.
Round bedroom false ceiling
A circular shape cut out of the false ceiling lets in more light, and when it's placed above your bed, it will help put the spotlight on both the ceiling and your bed. While this is a simple bedroom ceiling design, it's also very effective. You could also install a recessed light in each circle.
The effect is dramatic! And you can also do more complex shapes like, for example, a square, an oval, a rectangle, etc.!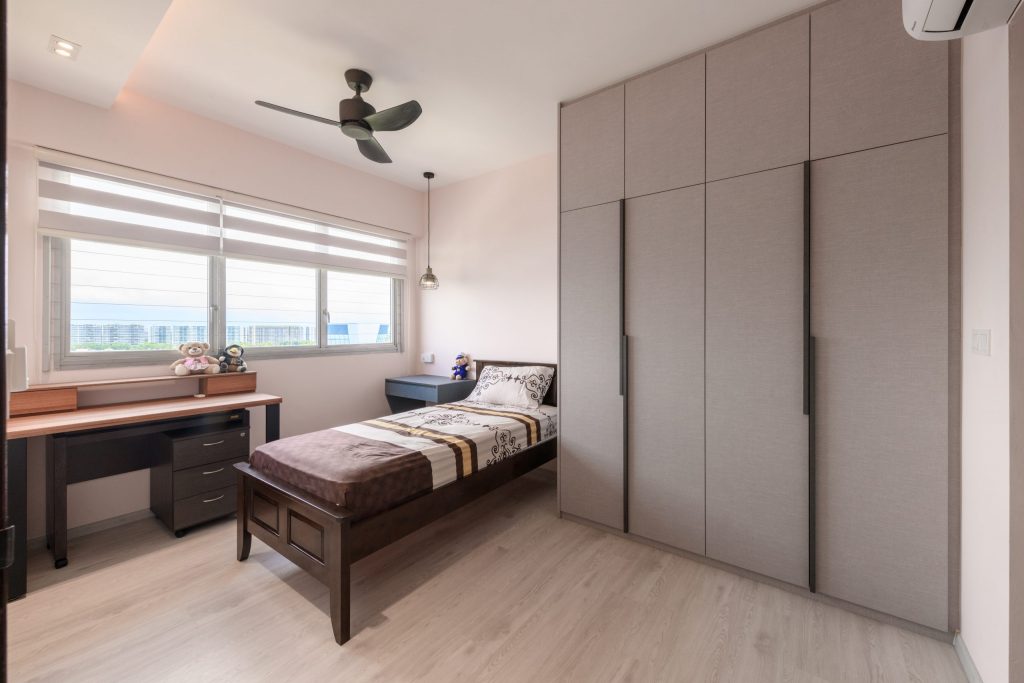 Extended panel for false bedroom ceiling
An extended panel is a wall behind your bed connected to the false ceiling. The panel and the ceiling are as broad as the master bed. The panel is made of hardwood, metal, or plastic and is attached to the ceiling by screws or a clip system. The panel is generally about 2 feet high. 
Put a mirror in your false bedroom ceiling
Their experimental temperament makes some people want to put the entire room's false ceiling on display with a large mirror. An interesting idea for someone who likes a bold and out-of-the-box idea. It gives a modern and futuristic appearance to the bedroom.
Floating island for your bedroom false ceiling
A floating island is a perfect accent for your bedroom. It's floating because it's suspended from the ceiling with a gap between the two. Because it's an island, it brings focus to the subject beneath it.

Build your best bedroom false ceiling design with Diva's Interior
Some people prefer a modern, clean look, while others like a more eclectic, eclectic look. Whichever style you choose, these false ceiling ideas will add a touch of class to your bedroom. With Diva's Interior, we can create your bedroom's false ceiling preferences based on your taste and pair it with your home interior design. 
With Diva's Interior, you can be sure of our commitment to quality and interior design and renovation expertise. We don't want to give you just the bare minimum; rather, we go above and beyond to provide innovative interior design solutions that you will appreciate. Visit here for more information.