If you live in a small, city apartment, you've probably had your fair share of decorating woes. No room seems big enough for the furniture you want, and finding the space to execute all the ideas you have for decorating small rooms is nearly impossible. 
Don't let your small living room put a damper on your dreams of decorating your home. We're not going to let all those Pinterest boards go to waste. Just because your space is small doesn't mean you can't make it look modern and chic. There are many ways to transform your living room. Let's dive right in to these decorating small rooms ideas.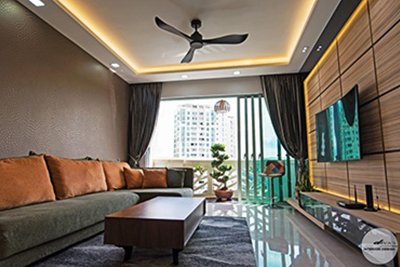 Sofa set designs for small living room
When you're approaching how to decorate a small living room, start with the most important item: the sofa. This can make or break the space. And all too often, people choose one that's too large for the room. A small profile is important. When I say small profile, I mean it should feel visually light in the room. You don't want it to be chunky. Avoid thick arms, avoid high arms, and avoid a high back.
Also make sure it doesn't hit the ground. You want your sofa set designs for small living room on thin legs, with air flowing underneath. Timber or metal legs 15cm off the ground should do the trick. I'd also advise the lines be clean. But that I mean, no fluid or elaborate shapes like you'd see in the arms of a chesterfield sofa, for example. 
In a really cramped living room, definitely avoid a chaise sofa or sectional. Use a pouffe when you want to put your feet up instead. It'll save loads of space.
Choose White Walls
When it comes to small living room decorating ideas, this one takes the cake! It's an all-too-easy hack to make your room seem airy, spacious, and soothing. What's more, white walls are like a blank canvas.
Whatever decor theme you choose will work seamlessly with these walls. But our expert designers recommend going with a white-on-white decor theme to maximize that spacious elegant small living room ideas look and feel. Pair your walls with equally pale furniture, and you'll have a brighter, lighter living room that's hard not to fall in love with.
If you think an all-white living room isn't to your taste, you can always incorporate bright pops of color in the form of small living room ideas with tv, lively plants, accent pillows, or even wicker furniture.
Use a Side Table as your Coffee Table
The thing with a round coffee table is that they're not made very small. Most that are classified as small are still around 90cm in diameter. And if you're in a small living room, you need every inch of space you can get your hands on.
With that in mind, I'd suggest you shop for a side table instead. Better still, a nest of two side tables would be brilliant. One will be higher than the other, so the smaller one will tuck under the large one. This allows for loads of versatility in the room, and they save on space.
The other bonus is how affordable side tables are compared to coffee tables from the same range or brand. 
The only thing to keep in mind with your side table is the height. When it comes to how to decorate a small living room, you want low furniture. So make sure the height of the side table is not a tonne taller than the height of your sofa seat.
Fit In a Nook
Small living rooms often come with slanted ceilings or oddly angled walls, making it even harder to style. While you may feel like you've hit a wall (literally), we're here to show you how to utilize that oddly-shaped corner and create a little nook for yourself. A nook adds a homely charm to small living room decor. You can use lower furniture to give the illusion of a higher ceiling.
Get yourself a comfy chair with a chic side table, and voila, you've got a cute little reading nook. We also love the idea of using a shorter ottoman as additional seating — it gives the tight space a cozier feel. You could even use this space to hang up your favorite artworks or pictures. Sectioning your living room makes it seem more spacious as you've made it look like it's big enough to accommodate multiple areas. 
Define the Space with a Larger Rug
When decorating a small living room, a lot of people assume a small rug is the way to go. But it's actually the opposite – especially if you have floorboards or tiles in the space. By rolling out a small rug along the length of your sofa, you trick the eye into thinking the living room doesn't go beyond the border of the rug.
By rolling out a larger rug, you actually trick the eye. You'll look at the border of the rug and assume that is the edge of the living room. Trust me, it works! 
It also helps to ground all of the pieces like the sofa, side tables, and pouffes. So despite all of your urges to go small, go big here. Also go for a rectangular rug. I know the urge to try a circle may be strong, but it will only make the room feel less inviting.
Play With Scale
One way to make even the tiniest living room seem a bit bigger is to find furniture that can fill up space. Small living room ideas with tv seem more expansive than it is. Proportionally, place a significantly smaller coffee in front of it, making the couch appear even larger. It's also worth noting that playing with scales in small living rooms is very important.
If everything — sofa, pillows, coffee table — is small, it makes the room feel even tinier. 
However, if there are one or two slightly larger statement pieces, it makes the room feel and appear larger. You can also play with scale by choosing bulkier window treatments and larger pillows to contrast the small rug and coffee table.
Draw the Eye Up the Wall with Tall Art
The footprint of your small living room is, well, small. There's not a lot of floor space. And you already have so many pieces of furniture on the floor. What you want to do in this instance, to create balance, is draw the eye up the wall to the ceiling. It's like fooling your brain.
In this instance, tall art is your friend. The same goes for tall sheer curtains, if you wanted to install those. You'd install them from the ceiling all the way down to the ground. You could also install an eye-catching ceiling light to take your eye up to the ceiling as well.
But back to the art. Choose a piece for the main wall in your living room and have it be the focal point in the space. Fill up that wall too, don't be shy! I've seen too many small living rooms with teeny tiny art on the wall. But you have to do the opposite. Go big or go home.
Free Your Floor
Clearing out your floors is one of the best modern small living room ideas you can execute. It's not as hard as it sounds, especially with the variety of furniture available out there. If you're a plant mom, switch to hanging planters. Not only will they pretty up your living room, but they also don't take up any floor space.
Another great small apartment living room ideas style="font-weight: 400;"> is to mount your furniture. You can attach tables, shelves, bookcases, etc., to the wall giving you a clean and clutter-free floor. Floating shelves are naturally minimal in design and fit in well with the vibe you're going for. You can't mount things like your sofas, chairs, coffee tables, and such.
Choose ones with exposed legs for the furniture. Chairs and tables with exposed legs automatically open up the living room and make it feel more spacious.

If you like these modern small living room ideas and want to bring them to life in your home, or design your own perfect living space, start a project on Divas Interior. You will receive unlimited access to an expert online interior design team who can translate your vision and guide you to decorating small rooms.