You can open your kitchen doors in many different ways with the option to slide, fold or swing. Kitchen sliding doors are popular here in Singapore, where homes are tiny. We need space-saving options to create more possibilities from a limited space, creating complex space solutions for all.
Singapore homes are often small and compact. The illusion of more space can be created with sliding doors. The right sliding door could be a statement piece to elevate the style of your kitchen because they are space-saving and functional.
With various materials, finishes, and colors to choose from, sliding doors allow you to separate and create compact space solutions when using small kitchen sliding door. It is possible to change the look of your home with unique designs. Our stylish kitchen door can be used to add character to your home's interior design.
What are bi-folds Vs. Kitchen sliding doors?
Bi-fold kitchen door
Folding-sliding doors – also known as bi-fold doors – fold open and are designed for a smooth, quiet opening and closing motion. It can also include a standard-style door at one end, letting you enter and exit without folding the panels.
Foldables are great for maximizing space, and most people choose to fold them inwards. If you have open folding doors, you won't have to worry about the furniture in your room getting in the way of the leaves when the door is open.
These are the only options when you want to go half-in, half-out in your space.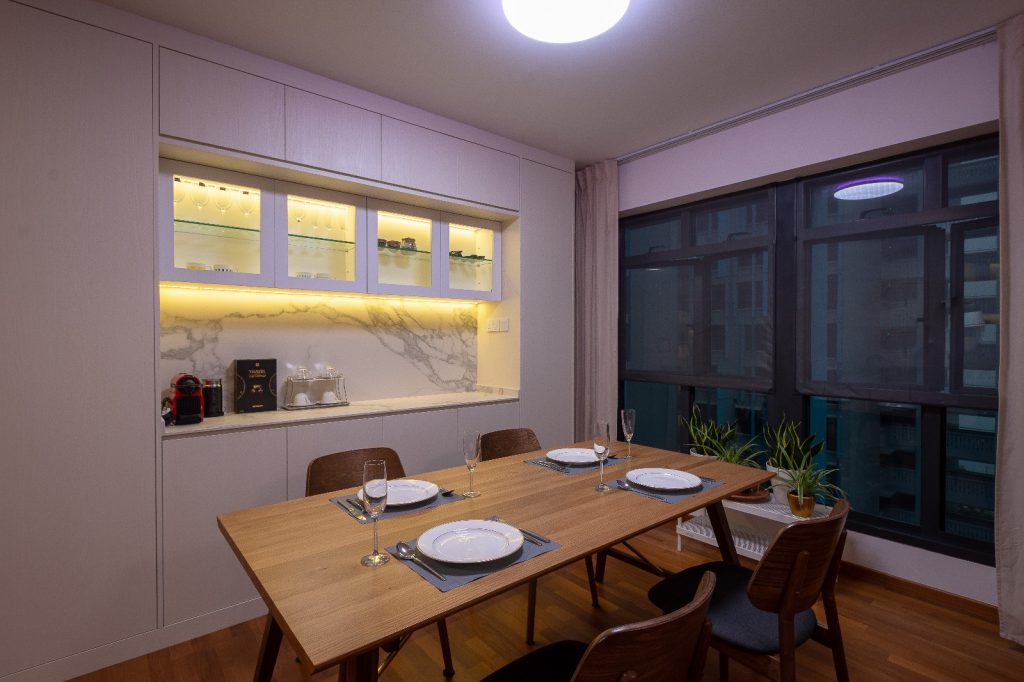 HDB Kitchen Sliding door
The kitchen sliding doors open by moving to the side. It is a space-saving strategy as floor space can be maximized without catering to additional room that regular swing doors require.
This is perfect for families and small kitchens where space is premium. What's more, kitchen sliding doors are easy to clean and maintain. There is no need to worry about dirt building up in the gaps as they are a breeze to wipe down with a damp cloth. 
Is our sliding door more expensive than a bi-fold door?
Bi-fold doors are more expensive than kitchen sliding door Singapore price. It depends on several factors, including the manufacturer and the materials used in the kitchen sliding door Singapore. The price depends on the frame material and its dimensions for sliding doors. In a nutshell, UPVC is cheaper than aluminum, but it doesn't offer the best durability. On the other hand, aluminum is more expensive than both but provides the best durability. Vinyl is a type of PVC, a very durable and easy-to-maintain material.
The final cost of the selection is affected by panel size. If you buy door window treatments for use in the evening, you might want to consider whether the doors have integrated blinds. Double-paned, fully-insulated windows with Venetian blinds should be installed if privacy is an issue.
The pros and cons of a Bi-fold door and sliding door for your kitchen
Unsure about which to choose? This guide will help you make an informed decision about the best type of door for your project.
The view:

sliding doors are more likely to offer a good idea of the outside. If you have the money, it is highly recommended to have two large panels in your greenhouse.




A bi-fold door lets in light, even though it's half-closed



Access:

Bi-fold doors can be more versatile if they are about access. You can open one panel for everyday use or open the whole space. There is no lip for people to trip over, and they are better for creating a level threshold between outdoor and so better suited to wheelchair users




When it comes to

thermal performance

, it is not always the case, but more frames in bi-fold doors mean more chances of thermal bridging, which can lead to some sliding doors being better at keeping the heat in



Let Diva's Interior help you with your kitchen door
Choosing the right door for your kitchen is not always an easy job to do. With the help of  design company, this matter will turn into an easy and fun process. Diva's interior was established in 2014 to provide high-quality and professional interior design and renovation services for our clients in trade hub 21 Singapore.
Whether you are looking for fresh and inspiring interior design ideas for your home, seeking help with your house renovation journey, or ideas for an office space where productivity and efficiency are maximized, we are the right firm for you.