It's hard to find a real "kitchen sink" that fits your sink mount. Your kitchen is one of the most important parts of your home. Hardworking and practical, these are essential parts of a kitchen re-design. They're often an afterthought or a last-minute decision though.
There are no such things as boring or ugly kitchen skinks.
Kitchen sinks come in all shapes and sizes, and there are many ways to customize your existing sink. From country, traditional and modern to stainless steel and quartz, there's an option for just about everyone. To make it easier for you to choose the best kitchen sinks for your kitchen, we have compiled several ideas for you here.
Black simple kitchen sink
Black is the most common kitchen sink color in Singapore. It's the most common for the reason that it blends in the best with other kitchen worktops and is the easiest to clean. Black is a gorgeous color, especially when paired with wood tones. It's a match that'll create a beautiful and cohesive look in this kitchen where wood accents take center stage. You can even use think kitchen sink with drainer.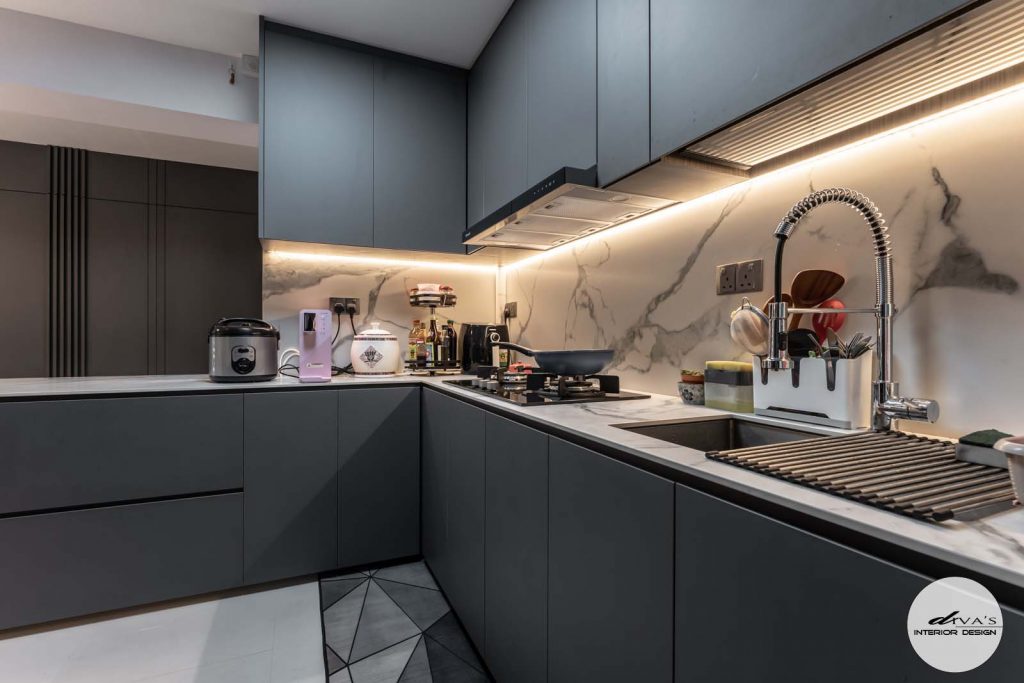 Granite kitchen sink Singapore
Dark black sinks always look incredibly chic in kitchens. The material you can try is a durable granite composite, which is typically resistant to chips, stains, scratches, and thermal shock. This is particularly important. It means when the sink's surface is cool to the touch, it won't crack when hot liquids or pans are placed in the basin.
Try a scalloped sink to create a statement
Kitchen-sink Singapore ideas can give your space character and make it look more unique. Statement sinks are a new trend in home design. They're an exciting option, but you should make sure you take into account the style of your home when choosing a sink.
For many people, the vintage sink such as the scalloped sink style is the best choice for their kitchen renovation. Not only do they look great, but they are also versatile and timeless pieces of furniture that will enhance the look of any home décor.
Classic kitchen sink stainless steel
Stainless steel kitchen sink faucets are some of the best-selling products in the Singapore industry today and with good reason. They are very easy to clean, can be installed quickly, and are extremely durable. The one drawback is that they tend to be quite expensive. This makes stainless steel kitchen sink faucets a good investment because once you own one, you will always have a top-of-the-line product in your kitchen.
Polished brass sink for Singapore kitchen
When it comes to the type of kitchen sink sg that you prefer for your HDB Singapore, try a brushed nickel or polished brass sink. You can install two apron-front kitchen sink designs. Your kitchen space will never be the same again after adding this beautiful stainless steel sink to your decor. Brass detailing is used to give high-end kitchens a touch of luxury style.
Concrete material for kitchen sink industrial style
Concrete is quickly becoming a popular material in Singapore homes as countertop material or for kitchen sink ideas. Especially in industrial designs. Sink colors vary; choose from black, white, or stainless steel.
A lot of people use concrete for their outdoor entertaining areas, but concrete is a natural material that will need to be sealed in order to keep it from deteriorating, but once sealed it is extremely durable and will last for decades in your kitchen.
Don't forget the shape of your kitchen sink 
The shape of your kitchen sink can also make a difference when it comes to kitchen sink ideas. You can't just have one type of fountain or basin. Choose the shape that fits best in your space. When the main sink is not located in a utility, consider a smaller, circular design. When not in use it's easy to hide under the worktop and still get access to the sink.
Corner kitchen sink
If you're looking for a large corner sink in your kitchen, a corner kitchen sink really takes advantage of its size and design. A corner kitchen sink is often found in kitchens that are on the smaller side or have a narrow space. This type of sink is also great for those who want to add an extra storage area to their kitchen. If you're looking for a large corner sink in your kitchen, a corner kitchen sink really takes advantage of its size and design. A corner kitchen sink is often found in kitchens that are on the smaller side or have a narrow space.
Apply your  sink to your kitchen island table
A kitchen island is a perfect place to store and use all of your kitchen essentials including the sink and hob. The best kitchen islands are made of hardwood, granite, or stainless steel so you'll be able to use the sink, hob, and oven on your island.
If you're the type of person who loves to cook, or you find cooking and cleaning a chore, then this is the device for you. It'll do everything you want it to do, whilst also keeping you connected so you can still keep up with the conversation.

When deciding on a kitchen design, it is important to understand what your lifestyle is. Do you want something practical? A minimalist design? Or maybe you are interested in getting more space. You need to have an idea of what type of kitchen you want.
Whether you are in the beginning stages of renovating or you are ready to start building, let Diva's Interior help you put together a kitchen that reflects your style and vision. Let us turn your ideas into reality! We are excited about helping you build the dream kitchen of your dreams. It's as easy as one single phone call!