A kitchen range hood that's not working can cost a lot more than the cost of a new range hood. If you are planning to renovate, it's important to consider a range hood that will fit your specific space. When you weigh your options, it's important to consider these steps.
Why does picking the right kitchen range hood important? 
Is kitchen hood necessary in Singapore? Kitchen range hoods are appliances that are needed to be installed in kitchens. These filters are one of the best ways to protect people from harmful kitchen fumes and indoor air pollution. If you select a range hood with a fan that's not powerful enough to handle the burners on your stove, for example, the smoke and odour from your food will linger and spread throughout your house.
And if you choose a product that doesn't match your ductwork, you may not be able to install it in the first place. Understanding how to select the right range hood for your kitchen is important.
Ducted Vs. Ductless kitchen hood Singapore
Ducted range kitchen hoods
If you want to remove odours from your kitchen, you should get a ducted range hood. It will clean the air from your kitchen, making it smell fresh and clean.
Ductless range kitchen hoods
Ductless range hoods use charcoal filters to capture grease, odour, and debris before recirculating the air back into the home.
Ducted/Ductless Range Hoods have both technologies built-in, so you can install them in any kind of kitchen. Many range hoods can be used as either ducted or ductless units, depending on your needs.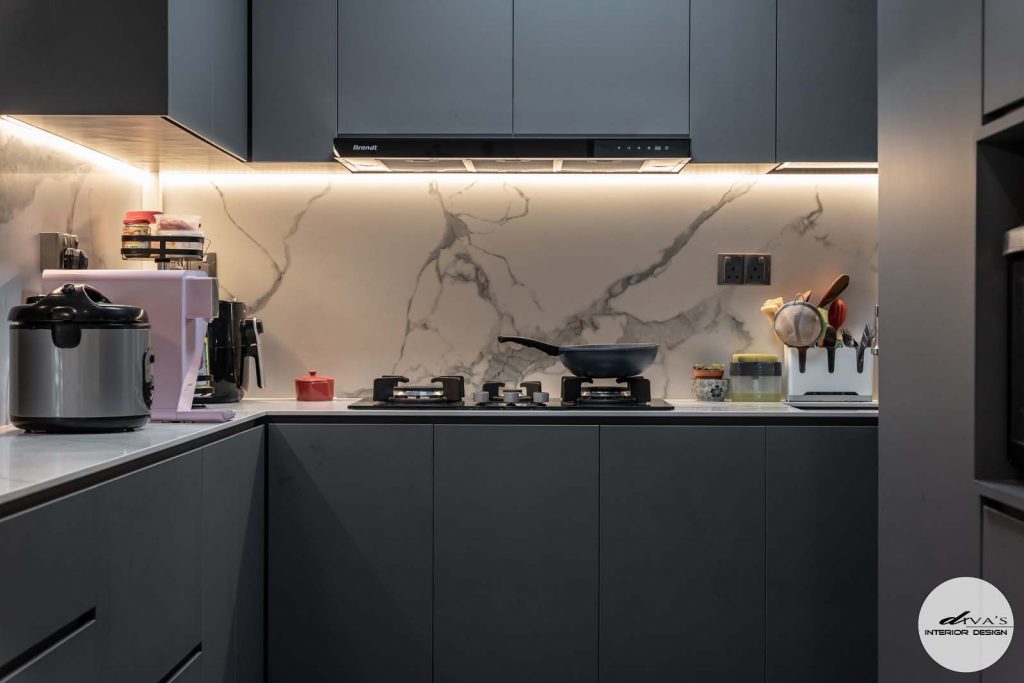 Mind your kitchen layout
Your kitchen layout determines how much space you have to work with and how to best fit your oven hood in place. Always read the manufacturer's instructions when mounting your range hood, as that's where you'll find the best fit and highest performance.
Choose your kitchen range hood mount styles 
Under the cabinet
Under the cabinet range hoods fit directly under a kitchen cabinet, and the ductwork is hidden from view by the cabinet itself. There are three under-the-counter cabinet styles to choose from, depending on your kitchen's layout. First, slim style. Next, pro-style and microwave style.
Against the wall
This is a very popular style in contemporary homes, with ducting designed to connect behind the chimney cover. If your range isn't below any cabinets, this mounting option works.
Island kitchen range hood style
An island range hood will let you install a stove that's up against the wall without blocking the ventilation in your kitchen. Island range hoods tend to be larger and have more powerful blowers than standard range hoods.
Why do they have more power? Air currents blowing in from multiple directions don't have to contend with units tucked away under cabinets. Island mounted range hoods have the best air circulation. They have a larger surface area than wall-mounted range hoods, so they have better airflow.
Built-in kitchen range hood
The model is tucked into the wall to maximize space It is possible to fit them inside a standard cabinet or chimney.
Choosing fan power for your kitchen range hood
If the room you are designing has a large opening into the kitchen then a powerful, central exhaust fan would be required to clear the air and prevent strong cooking smells from coming. If you measure the kitchen ceiling height times the room width, you'll be able to figure out how much space you need. This will give you the volume of your kitchen.
Kitchen Ceiling Height X Width of the Room = Volume of the Kitchen
An air handler needs to be capable of cleaning the air in the kitchen no less than eight times an hour.
You should know about kitchen range hood noise
A high-powered oven hood is nice, but if you find it sounds like an aeroplane taking off every time you use it, it's probably not worth it. Experts say that rather than aiming to draw the air in front of the hood, it's best to aim to draw the air at the edges or perimeter of the hood. Not only does this make the hood more efficient, it also helps reduce the noise level.
Get to know the additional features
Auto-cleaning
Certain Hauslane range hoods clean themselves automatically. Just press a button, and the hood will clean itself! In other words, the range hood will automatically clean its motor, fan wheel, and housing to remove grease buildup—delivering improved hygiene, longer motor life, and better long-term motor efficiency so the suction power won't diminish over the years.
Delayed shut-off
It's usually a good idea to let the fan run for a little while after you're finished cooking to let it cool off and the smoke dissipates. Some model fan comes with delayed shut-off, so you don't have to come back later to shut it off—just push the button, and it will turn itself off.
Lighting
Evaluate the lighting on the range hoods you consider. Lighting technologies have come a long way and now integrated LED lights last much longer. LED lighting gives you more energy savings than halogen lighting.
Speed settings
Check out the different fan settings for your fan. Some kitchen range hood fans come with as many as six different fan speeds, so you can find the best fan speed for your specific situation.
Consider the your kitchen hood price
Home improvement stores sell many different products, and like almost anything else you buy for the home, the cost can vary greatly. The different types of light hoods will impact the total cost of the light. Features such as size, power, material and type of built-in lighting may affect the total cost.
If you're not familiar with the items you want, take your time and do a little online shopping before you go to the store. That way you'll be able to compare prices and find the best deals.
Don't forget to consider installation in the equation. It's important to use a licensed and qualified contractor for this job. The labour and materials involved can easily add up to more than the cost of the hood itself.

Design your Kitchen range hood with the professional, Diva's Interior
A kitchen range hood should look good and serve its purpose well. If it doesn't do this, it will be a constant source of annoyance for the kitchen and the home.
Designing and installing the best kitchen hood is not difficult. You can either choose a custom design or buy an existing model. The best choice is to hire a professional, that is Diva's Interior. Choosing your kitchen range hood will never be easier with us. Call us or visit our showroom here for more information.