It is possible to have a personality piece in the kitchen. You have your style if it's sleek, polished or neutral, modern, traditional or shabby chic or both. The kitchen is an essential part of the home because it provides various essential functions and activities, such as cooking, storing food and entertaining guests. The kitchen backsplash Singapore can be turned into a focal point if you are creative.
Kitchen backsplashes are practical and beautiful in addition to being functional. They're straightforward to clean, and they contribute to the kitchen's overall look. Many people wonder, "When should I start and stop my kitchen backsplash renovation?" The answer depends on your home, aesthetics, budget, and more.
When you're remodelling your kitchen or adding a new kitchen backsplash to your home, here are some guidelines that tell you when you should start and stop your kitchen backsplash renovation.
What is a kitchen backsplash?
You need to protect the kitchen in your home, mainly because it's the room that gets the most action. You'll get ready for what might come your way. It should have resistance and should also be able to resist all substances that could come in contact with it, maintain its elegance simultaneously, and retain its beauty.
The kitchen backsplash refers to the material such as stone, tile, metal, or even kitchen backsplash glass etc., used to protect the wall area between the kitchen countertop and upper cabinets. The backsplash is placed at the top of the Countertop, where it runs the whole length. 
Should you go all the way up to the cabinet?
To get the best results, you need to know the proper height from the counter to the bottom of the cabinets. The bottom of the upper cabinets is a good place to start. It will look good for a long time.
For a small kitchen backsplash ideas
Cover the wall to the ceiling if the kitchen is limited to a small area. Condominium kitchens have a kitchen layout with a single space between the refrigerator and wall. It's suitable for apartments and condominiums. Tiling the entire room with one material makes the kitchen look more prominent.
For a big kitchen backsplash design
One of the biggest design mistakes when remodelling a kitchen is taking the tile to full height. It's usually best to start with a smaller tile scale than you initially imagined. For this situation, ending the tile vertically at the same line as the upper cabinets makes a better look.
To create a sense of intimacy in the space, the homeowner should use a darker tile for the upper walls than the remaining ceiling.
For a taller ceiling kitchen backsplash design
In spaces with taller ceilings, a bulkhead often fills the void above the upper cabinets. This tileset gives your collection of tiles a nice finishing touch. It also creates a sense of place, so nothing seems out of place and no space remains.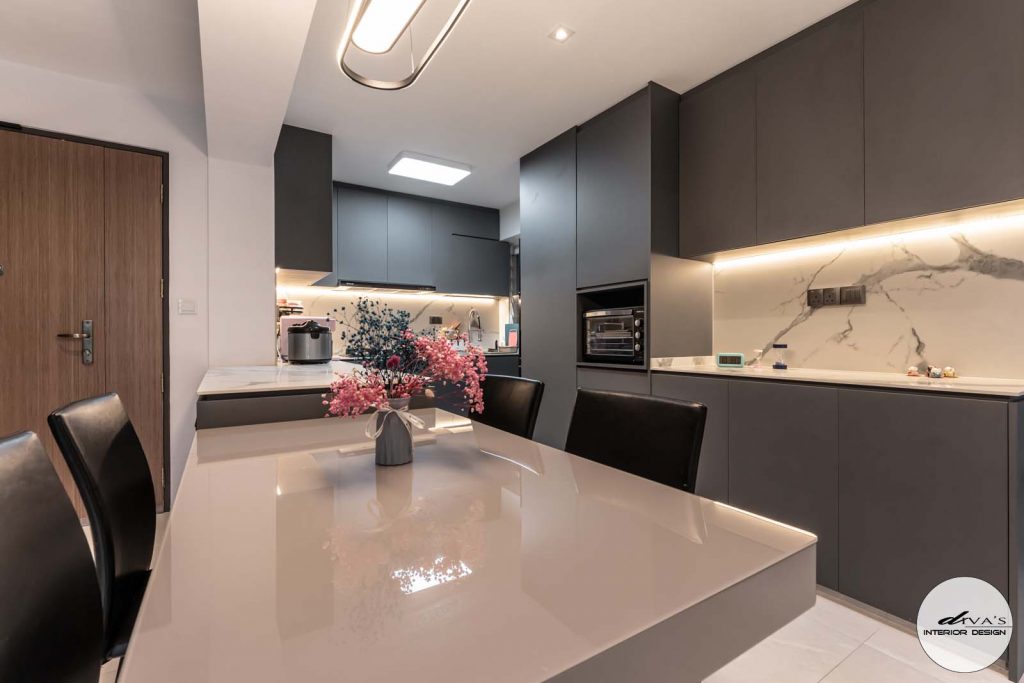 Align Upper Cabinets, Lower Cabinets and Backsplash Edges
If you have a kitchen that runs along one wall, you don't need to worry about how to make a tile line extend down the wall. In a case like this, where the kitchen cabinets end in the middle of the room, the best option is to complete the upper cabinets, lower cabinets, and backsplash all in one line.
Kitchen backsplash on sidewalls
We highly recommend not putting it on sidewalls if your upper cabinets are not above them. This sink is in the worst-case scenario when you have a sink next to the wall. You might consider using latex paint or waterproofing to avoid water damage and stains.
Adding an extra-wide backsplash is a great way to give your kitchen an elegant yet practical look. These are easy and affordable, plus they'll add curb appeal to your kitchen. However, you should keep in mind specific rules when renovating your kitchen backsplash—especially its height and vast proportion. 

Our services include interior design services; we provide innovative and high-quality interior renovations in Singapore. We offer beautiful interior designs and home and business renovations. Click here for more information.