Do you plan to renovate your HDB flat in Singapore? Before starting any renovations, it is important that you apply for a Hdb Renovation Permit from the Housing and Development Board. The permit will allow you to do all renovation work on your property with peace of mind. This blog post provides guidelines and rules for getting a Hdb Renovation Permit in Singapore. Read on!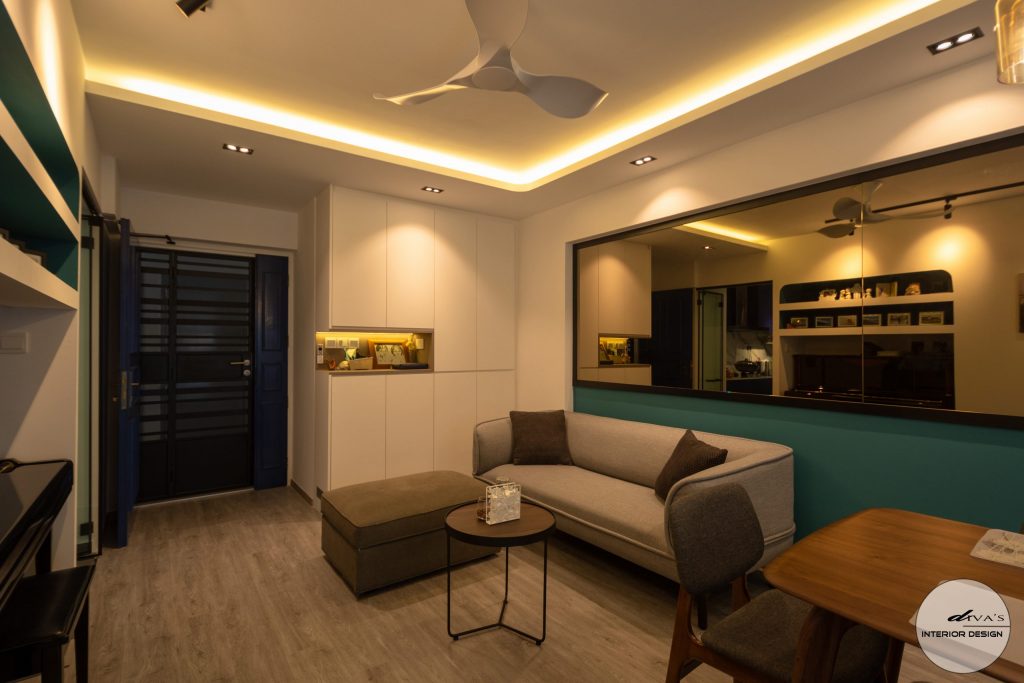 When it comes to HDB renovations, you can't just hire an interior designer or renovation contractor and start hacking away at your walls. There are specific permits that need to be obtained before the work commences and guidelines for how these renovating projects should proceed.
It's understandable when you're eager to begin making changes in a home- but don't neglect some of the important steps needed first!
HDB Renovation Permit: An Overview
Getting a HDB renovation permit is not easy. It takes time, effort and money to get it done.
We can help you with this process!. Our team will provide consultation for your home renovation plans, assist you in getting the necessary permits from HDB (Singapore's housing board) and more. We'll also give you useful information about how to renovate your home or HDB flat.
To know more about getting a hdb renovation permit in Singapore, you can read this basic information ! It provides guidelines and rules for getting HD
HDB renovation permit: What is it?

HDB's written approval is not the only thing you need to carry out renovation work.

Written approvals have been put in place by The Housing Development Board (HDB) for many different types of construction, but it can be an important factor when carrying out renovations too.

Works that require HDB renovation permit

With this HDB Renovation permit you can change everything from flooring and walls all the way down to replacing windows or repositioning sinks for plumbing work! start from..

Hacking of flooring and walls, moving the placement of a door (which requires you to hack a wall), changing of staircase railings, replacement of windows, bathroom and air-conditioning works, repositioning of sinks (plumbing work), gas works

Time taken for HDB to approve the permit

2 to 3 days, if renovation work does not include hacking or reconfiguring of toilets or sinks.

How to apply 

By filling in the renovation permit form and submitting it on MyHDBPage under renovation 

HDB renovation hours

9.00am to 6.00pm on weekdays and Saturdays; no renovation work is allowed on Sundays and public holidays*
HDB Renovation Permit Guidelines: What You need to avoid
Unfortunately, many homeowners neglect to follow the guidelines set out by HDB when undertaking renos. In order to prevent this from happening in your home too, here are some of the things you cannot do: 
If you want to renovate your HDB flat, it's important that the work falls within regulations. If not, serious consequences can be incurred and even prosecution as a result of these breaches in rules from the government.
While some renovation works require an HDB permit before they can take place, others are banned outright due to reasons pertaining to building structural integrity or fire hazards or because they infringe on lease agreements and other statutory regulations.
Some items are prohibited due to public safety concerns or for aesthetic reasons. There are 4 example changes to the property will not meet your expectations for quality and must be avoided:
Building and Structure
Hacking and removal of structural members (load-bearing structures or staircases) 

Overloading of floor slab with more than 150kg for every metre square of floor 

Plastering of ceilings 

Partitioning with combustible or toxic materials 

Raising of floor level exceeding the allowed thickness of 50mm with concrete, inclusive of finishes 

Extending floor area by covering void areas

Repositioning or enlarging chute opening 

Painting the area outside the flat

Installing awning or other fixtures outside the flat

Laying floor finishes outside the entrance without having recess area or step

Removing a pitched roof ceiling

Changing planter boxes
Sanitation or Plumbing
Windows, Doors, or Grilles
Installing casement windows when the flat faces the common corridor

Replacing full height windows, 3/4 height windows, or bay windows

Removing or tampering with safety railings/grilles (internal and external)

Permanently sealing a planter box

Installing overhead grilles at an interaction balcony
Air-Conditioning Related Works
Installing external grilles on the air-conditioner ledge 

Changing the use of the air-conditioner ledge
Find out what you must do according to the guidelines of your particular HDB unit! You may check MyHDBPage, a website where prospective buyers can find their desired property by inputting criteria such as location and price range. With this site, it's easier than ever before to buy or sell an apartment in Singapore.
Different types of Singaporean apartments have different guidelines too. For example, if you own a DBSS unit, each development has its own set of rules. If your residence is an HDB-designed BTO and registered with the Housing Development Board (HDB) portal site in order to get updates on renovation restrictions for new tenants as they come out; then you are doing it right!
Different types of HDBs all follow their specific regulations when designing flats or registering them online through initiatives such as the Designing Better Homes Scheme by HDB that helps families find homes tailored towards their needs so they can live better lives together
What is HDB Renovation Permit?
There are renovation works that require written approval from HDB. You'll need these permits before any renovation work can take place.
If you don't get a permit before starting the renovation works, HDB will treat it as unauthorised and ask you to reinstate your flat to how it was originally. Certain precincts that have unique designs and special features have additional guidelines that you need to comply with.
For works that don't require permits, you'll still need to comply with the guidelines governing them or HDB will ask you to remove them and restore your flat to its original condition.
What Are the Works That Require HDB Renovation Permit
Floor finishes
Any work that requires tearing up the existing floor or raising it will require a permit. For example, if you intend to replace all the tiles in your kitchen, doing so would require removing the old flooring.
Apart from the need to obtain a permit, there are also guidelines to follow. One of these is that the new floor finish must not exceed 5cm. If you are raising it, the height between the floor and window must not be less than 1m.
Halls Renovations
Before you hack down any walls in your flat, be warned – the HDB requires that a permit is obtained before demolition works may commence. Similar requirements also apply to construction of arches and rounded corners to existing openings; they too require approval from the authorities. Changing internal wall finishes? You'll need a permit for this as well so make sure not to compromise on structural integrity!
Relocations of Doors
If you're thinking about moving a door to another part of your house, keep in mind that the doors are not compatible with concrete walls. So if hacking is involved, it will also need reinforcement from columns and other load-bearing structures.
Renovate Bathrooms/ Toilets
After 3 years, if you decide to change the flooring or wall finishes of your bathrooms and toilets, or extend your bathroom/ toilet. You will need a permit from HDB which may take up to 6 months depending on how complex it is for them to evaluate this plan.
Changing of Staircases
If you're looking to customize your home with a custom staircase, it will take time and patience. Firstly, you must get permission from both the HDB (Housing Development Board) and BCA (Building Construction Authority). After that, hire an engineer who can create different designs for approval by BCA; then wait until they approve before handing in the design to HDB for their renovation permit. This is just one of many ways to personalize your own space!
Windows Works
HDB has strict guidelines for window replacements, which need to be approved by HDB and follow a set of guidelines. Windows that are casement windows must not exceed 50 cm wide or 70cm long. Sliding windows cannot go past 120cm in width but can reach up to 50 cm high as well as the length you want them at (as long as it does not surpass 150% of your original). When installing new grille designs for service yards and balconies, they have two options: rectangular grids with no more than 1-inch gaps between bars on each side;
rectangular grid spacing should range from 5 inches apart down to 2 ½ inch gap depending on how flat dwellers intend their balcony use!
Window safety is of paramount importance for HDB, as they want to make sure that no-one ever gets hurt in case a window falls.
Bathroom Renovation Works
You're not allowed to replace or alter your bathroom walls and floors for the first three years of ownership unless you have a renovation permit. This is because waterproofing membranes are installed by HDB that need time to stabilize, so water leakage doesn't occur in there. After 3+ years, if you want more tiles on the floor or another kind of material like drywall on wall surfaces then it's possible!
Larger bathroom fixtures such as a shower screen, long bath, and spa pool require certain conditions to be met prior installation. Public Utilities Board licensed plumbers can advise you on what is possible or not.
How To – Applying for an HDB Renovation Permit and how to check hdb renovation permit status
Are you looking to renovate your home? Do not worry, HDB has a process for this. You can authorise someone with the know-how and skillset in electronic application forms to submit it on your behalf. The house will be inspected before approval is granted so make sure that all preparations are done beforehand!
To fill in the HDB renovation permit form, you will need:
Two copies of scaled floor plans

Signatures of all flat owners for acknowledgement
You want some changes made at home but don't have time or knowledge of how go about getting them approved? 
No problemo – our handy online form generator makes submitting an application easy peasy lemon squeezy once we get everything scanned together, which includes layouts plans as well as drawings showing what needs changing. It's super convenient too because you'll receive SMS notifications when they've been processed. You can also view your renovation permit on My HDBPage once it has been granted. 
How long to apply for hdb renovation permit
The time it takes for an HDB renovation permit to be approved depends on the work that needs to take place. A wall hacking or reconfiguring of toilets and sinks will involve more paperwork, but if you apply early enough then this won't affect your deadline!
You'll have 3 months or a month to finish the works depending on your flat's age.
The best part of living in Singapore is that you get plenty of time for renovations! For those who just bought their new home, congratulations and here are some things you must know about it – if it has just been completed then there's an extra-long three months before work needs to be done but if not, there will only be one month from when construction starts until all necessary jobs need to be finished.
How To
Finding an HDB-approved Contractor
HDB provides a list of approved contractors that you can browse through their e-Service or you can also ask DivasInterior for quick advise. These are not HDB's contractors, but be aware they do have the power to mediate disputes if need arises for any project work done with them.
HDB offers an online resource where homeowners and building owners can find out about different registered builders in Singapore who provide quality services which meet all construction standards set by the government agency itself or other organizations like CASE and SMC when needed on specific projects such as home renovation or extension works respectively.