The bathroom is often the room that makes or breaks the deal on the sale of your home. But regardless of it being the least important and perhaps the smallest room in the house, have it in the air. The bathroom is NOT described as the most-visited room for nothing. You have to make an impression. So be loud!
Bathroom renovation is a big decision. It's hard to know what you're getting into when it comes to bathroom renovations in Singapore. There are so many different options and prices that it can be difficult to figure out which one will work best for your budget and needs.
We've compiled 9 of the most popular ideas for bathroom renovations in Singapore, all with varying budgets, styles, and features. This way you can find the perfect fit for your home!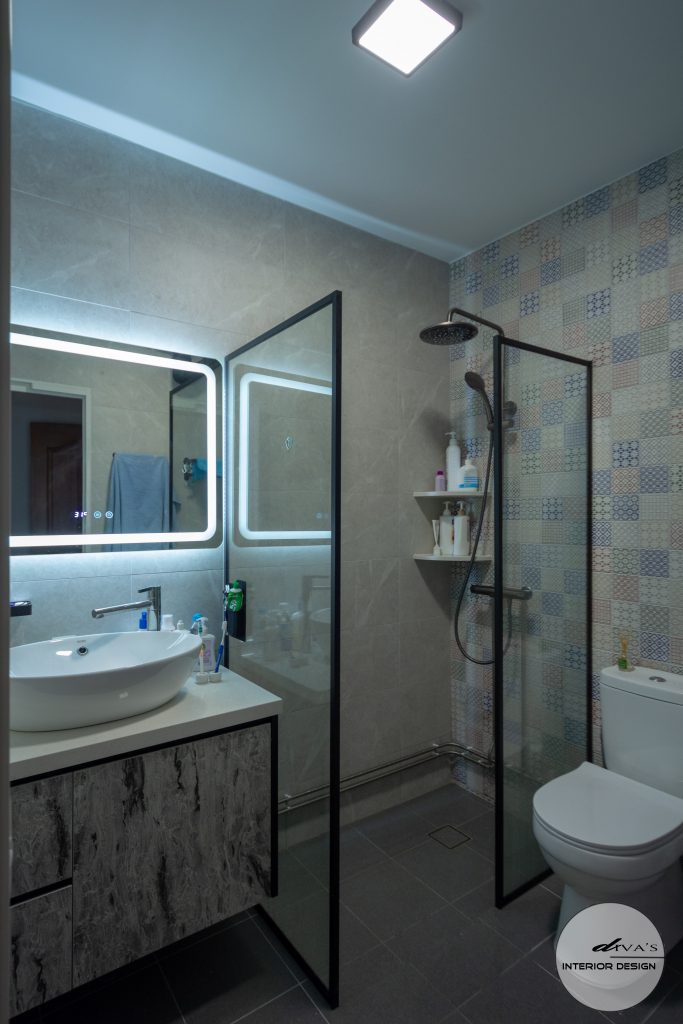 Bathroom Renovation in Singapore Package
There are several bathroom renovation packages in Singapore including renovation packages primarily for toilet floors and renovation packages for bathroom walls and floors. These 2 kinds of restoration projects can be done by overlay technique or by hacking technique.
The cost of restoration varies depending on the needs of the property being replaced and the size of the wall and tile replacement. Floor Toilet Renovation Package uses an additional tile coating technology approved by HDB which will make a toilet paving tile look and feel older and even durable. This package's cost ranges from $800 to $2480 (price can be changed at any time, you may contact us for an updated price). Despite the fact that there is no leak, this project takes up to 5 weeks.
HDB toilet renovation tips
Now that the newer HDB bathroom is older, it's harder to accomplish the visions. Thank you for this list of bathroom renovation strategies for increasing the storage area in your bathroom. A helpful comparison of all the renovation toilet hacks has been included.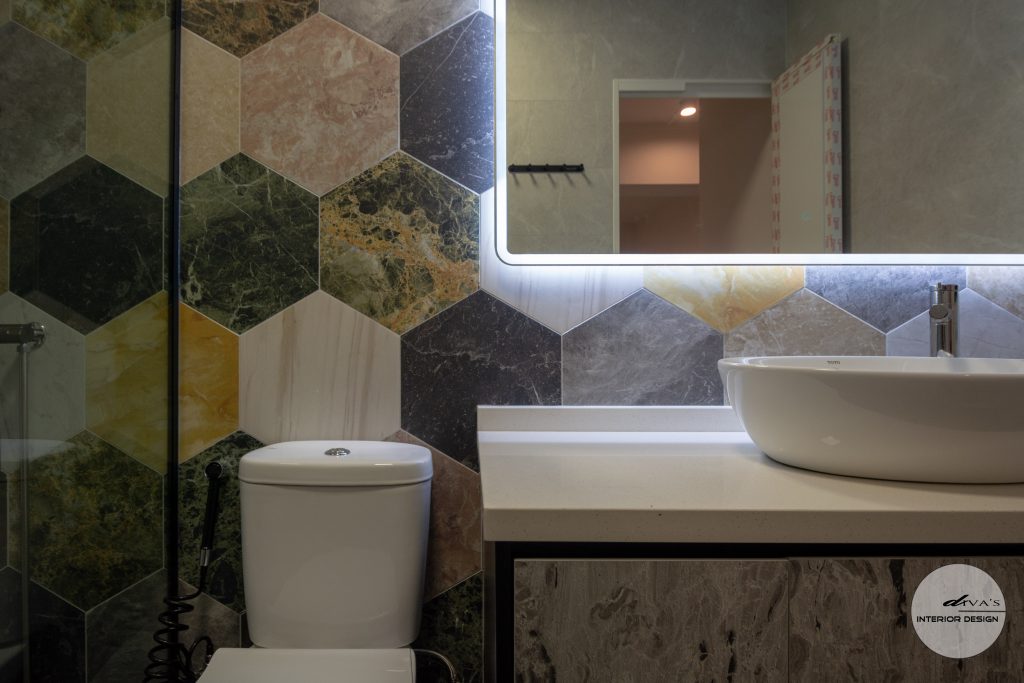 Extend the toilet outward to make it bigger.
Yes, this is true. You may increase the size of your bathroom by up to 0.6 square meters or 600 millimetres in width according to on HDB rules for renovation. On paper, it doesn't appear like much, but you could incorporate an entire sink or a tiny cabinet into that little space.
If you have adjacent bathrooms that are typical in 3-Room Improved and 4-Room HDB flats, you may combine them into one huge bathroom by demolishing the separating wall.
However, if your flat allows for either of these choices, you should verify with HDB first. You wouldn't want to make a costly – and perhaps unlawful – mistake during a toilet renovation.
Estimated cost: $$$
Slide doors can be a wonderful way to use space while saving money.
Consider replacing the door with a sliding one if you're manoeuvring to avoid it while entering and exiting your cramped bathroom. You won't have to worry about taking into account the amount of space consumed by the door as it swings, allowing you more working area.
The strain on the track mechanism supporting it is reduced by choosing a sliding door made of lighter materials, such as wood. A door that slides into a wall and retracts into the frame for a clean look is an option.
Estimated cost: $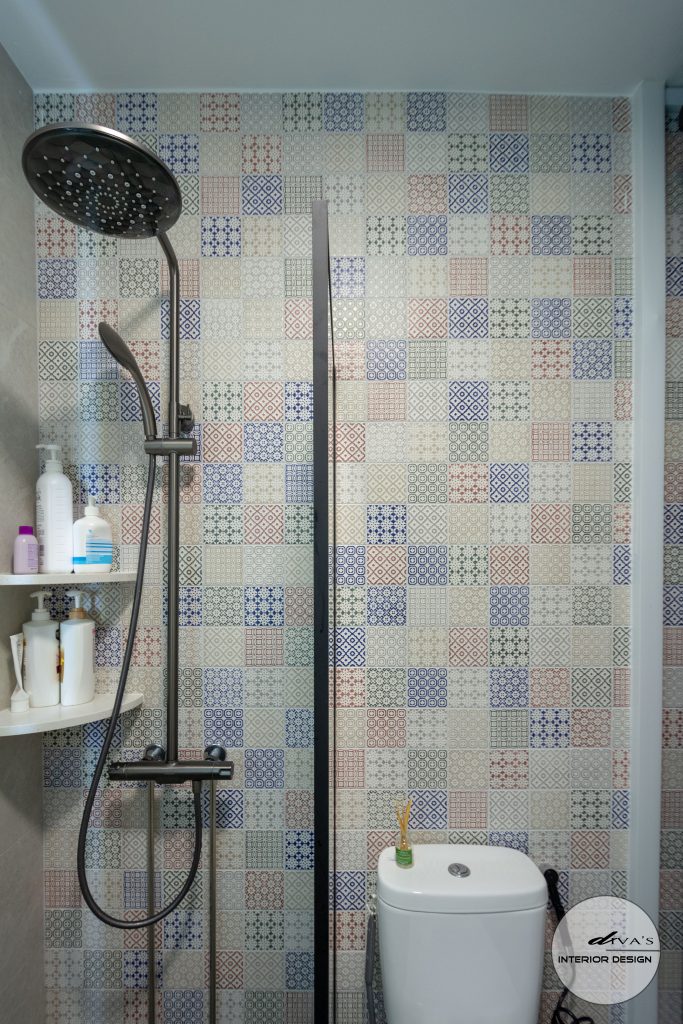 Wall-mounted or small fixtures may be installed.
When it comes to tiny bathrooms, floor space or floor tiles is limited, so it's wise to keep as many fixtures off the floor as possible and choose small versions for small bathroom space.
Install a wall-mounted basin, toilet bowl, and cabinets as soon as possible. It'll give you additional floor space to work with while still maintaining a neat appearance. The finest part is that keeping the floor clear allows for easier cleaning and provides less potential for dirt and mould to accumulate.
Another hdb toilet renovation idea is to place the toilet in a corner of the room, and instead of taking up valuable countertop space with an awkwardly shaped faucet, you can get rid of some clutter.
Estimated cost: $$
To save room, choose a corner tub or shower tub combo.
This may come as a surprise to some of you: yes,
If you're living in an HDB flat, you might be able to install a bathtub. The next issue that comes to mind is space. Instead of having a single shower, as usual, try building a shower-tub combination that completely replaces the functionality of a standard shower.
If you want to separate your bath and shower but don't want to install a shower-tub combination, consider a corner tub or a Japanese ofuro. Warm and relaxing baths will be accessible to you once again thanks to these bathroom tubs. They take up far less room while still allowing you the pleasure of unwinding in a hot tub following a busy day at work.
Standard benefits:
– Enjoy a soothing bath in the tub.
– Have more space to relax and unwind with family or friends.
– Save time by bathing your children together.
Emotional benefits:
– Pamper yourself after a long day of work.
– Watch the rain fall outside while you soak in the tub.
– Sit back and relax with a good book.
Physical benefits:
– Less strain on the body while bathing – especially for older family members or those with mobility problems.
– Easy access to your showerhead – no need to stretch while washing yourself.
– Enjoy a deep cleanse while comfortably lying down in the tub.
Estimated cost: $$

For storage, place shelves into the toilet walls
Maximising space when hdb toilet renovation does not just involve using smaller appliances; in Singapore, you may also utilize every inch by constructing shelves into non-structural walls. This adds storage for your toiletries and creates a little more depth in your hdb bathroom because it makes your walls appear to be farther away than they are. This will not only add storage but also create a feeling of airiness in the spacious bathroom.
Estimated cost: $-$$
To allow for more natural light, replace the windows.
Even the most spacious room may seem cramped if it is dimly illuminated. We open up the visual appeal of our tiny bathrooms by allowing more natural light in, which makes them appear larger than they are.
The majority of HDB homes come with dark louvre windows, which many homeowners find inconvenient. Replace the panes with frosted glass ones that let more light in, or go all the way and replace the bulky frame of louvre windows with top-hung windows for a more modern look.
Standard benefits:
– More natural light makes the room seem larger.
– It is more pleasant to use the hdb bathrooms in a brighter space.
Emotional benefits:
– You will feel more comfortable using your bathroom with natural light.
– Your mood will be improved by having more natural lighting
HDB has several rules regarding window type and materials depending on the unit, so be sure to check with your interior designer or contractor.
Estimated cost: $
Reflect light by reflecting mirrors.
It's hard to see in the dark. We all know that it can be difficult to see in the dark, but most of us don't want to use a flashlight because they're too bright or we worry about running out of batteries.
Reflect light by reflecting mirrors. This is an easy way to make your home safer and more comfortable without having to rely on artificial lighting sources like candles, flashlights, or lamps. Mirrors are also great for entertaining guests when you want them to feel at ease and not squinting their eyes trying desperately not miss anything!
Mirrors may be placed in such a way that they complement one another, providing the user with an enhanced sense of space and aesthetic appeal. They can not only make bathrooms appear double the size, but also improve aesthetics when applied to neat and basic hdb toilets.
When it comes to bathroom mirrors, we recommend going BIG. To add height and breadth, choose longer or wider mirrors that accentuate vertical and horizontal lines.
Frameless mirrors, on the other hand, will add to the illusion of space by minimizing visual clutter. If you want to go all out, wall-mounted mirrors with illumination may be used to give your bathroom a particularly elegant look while also providing more ambient light.
Estimated cost: $
For walls and flooring, use glossy materials such as marble.
Use glossy, light-reflecting materials such as marble for our walls and flooring to maximize the amount of natural light. Not only does it make your bathroom seem larger, but it also gives it a five-star hotel-style feel.
Estimated cost: $$
Use a vivid and consistent colour scheme.
Choose colors carefully before hdb renovation because colors may influence our perception of bathroom space. Warm tones make for soothing vibes, but cooler tones make rooms seem cleaner and more open – while also reflecting the most light.
Choosing the correct color for different surfaces and bathroom light fixtures with a proper color temperature is also critical. To enhance the perception of visual spaciousness, use bright bulbs that lean toward a cooler tone.
Estimated cost: $$
Make sure you use tiles with a similar pattern on the floor and walls.
When it comes to tile designs, a lighter mood while maintaining coherence in terms of similar hues helps to avoid disorienting the room visually, resulting in a seamless and large bathroom design.
To emphasize the height of your bathroom, line your walls with long tiles and use similar floor tiles to complete the illusion.
Estimated cost: $$

Use shower curtains or glass dividers instead of ordinary shower drapes.
You may create a more light-filled area by utilizing transparent shower curtains or translucent glass dividers, which will allow more light to brighten the space while still maintaining openness. If shower curtains or separators aren't in your style, you might as well get rid of them.
Standard benefits:
– You can create more light in the space.
– The openness will be maintained.
Emotional benefits:
– It's a way to express your style and personality.
– It'll feel like you're outside of the shower, even if you're inside.
Estimated cost: $
Choose an open concept HDB toilet instead.
Never miss out on the newest things to do in Singapore again.
Allow me to introduce you to the concept of open-concept bathrooms if you're feeling daring and have an en suite.As the name implies, these bathrooms have transparent walls that let you see into your bedroom, providing you with the ideal illusion of space while also allowing more light to enter.
Although an open-concept bathroom does not necessitate that you display everything, it does imply that you don't have to hide anything. A semi-open concept bathroom with blinds or frosted glass is a fine compromise between privacy and openness.
Show the most common mistakes in toilet renovation in HDB?
Our renovation professionals put together a list of errors to avoid when renovating a bathroom. If you find this guide to HDB toilet renovation useful, consider also All You Need to know About Different Types of Lights.
1) The most common mistake that is found in HDB are the installation of the wrong type of fittings.
The most important thing to do is to read the installation guide carefully before you start installing your fittings. Another common mistake is not following manufacturer's recommended height requirements when installing toilet bowl. For example, if you have a triple toilet, make sure that they are installed at least 14-inches above floor level, otherwise, you might end up with either a flooded bathroom or a badly functioning flush.
2) Using too much sealant around hdb toilet and sinks 
Can also be detrimental to keep them from draining properly due to its thickness blocking water from seeping out through the bottom. This is especially true when you are sealing the shower floor, if too much sealant is applied to keep it waterproof, water will end up pooling on top of the sealant instead of draining down.
3) We also recommend that you do not try doing everything yourself unless you have working knowledge in plumbing. 
Installing new toilets may seem easy enough until little things come up like putting in new bolts or tightening them with an adjustable wrench can be very tough since most existing bolts are corroded and they are made of different metal alloys compared to your new bolts which are stainless steel.
4) There is nothing worse than realizing after the renovation is done that your kitchen is too small. 
You have to keep in mind that the kitchen has one of the highest footfall areas for activities, so you can't just skimp on space. If possible, design your renovation plan around the layout of your kitchen instead of trying to shoehorn it into a space that is too small for it or worst still by making your kitchen smaller than what was shown on the plan.
5) Another common mistake would be not having enough ventilation provided in your HDB bathroom renovation<span style="font-weight: 400;">.
For example, if there are windows in the room but they do not open properly due to paint being stuck on them, then you need to consider installing exhaust fans instead as this will help bring moisture and humidity out of bathrooms. Also make sure that after installation, take care when using fans to flush the hdb toilet as they can be very strong and may cause a suction effect.
How much does it cost to renovate a Bathroom in Singapore?
Bathroom renovation prices start from just $6,590- $16,962 the average redevelopment cost is about $10,928. The more changes the more increases in the renovation of room structure the higher cost is of course the more changes the more expensive. Renovation conditions depend on changes in these conditions. Space and dimensions of the building. Renovation of a part of Singapore and of course resurfacing of some parts of the hotel is also important factors.
The current condition of the home, the type of property to be restored, size and number of rooms to replace are important aspects to bear in mind. You can go and consultancy with our Interior design and get quotes before you decide what bathroom renovation Singapore wants to make.
We're here to help you with your hdb bathroom renovation in Singapore. don't hesitate to contact us and we'll get back to you with a free quote.