When you're decorate your home or renovating any living space, you are able to customize the space completely to meet your needs.You can create space for your condo or hdb flat that wasn't there before and find new ways to maximize the existing home with condo interior design. A condo living is often associated with trendy living in an urban area because their concept like open space or many hidden storage.
As condominiums, a Condo design Renovation Ideas topics have grown more popular over the years, homeowners have turned away from traditional homes and towards condos for their lifestyle choices.
Condo renovations are a great way of spicing up your current residence or finding a new one entirely!
In this blog post we will discuss some top ideas for renovation condo in singapore projects in every room of your home renovation so that you can get inspired and started today!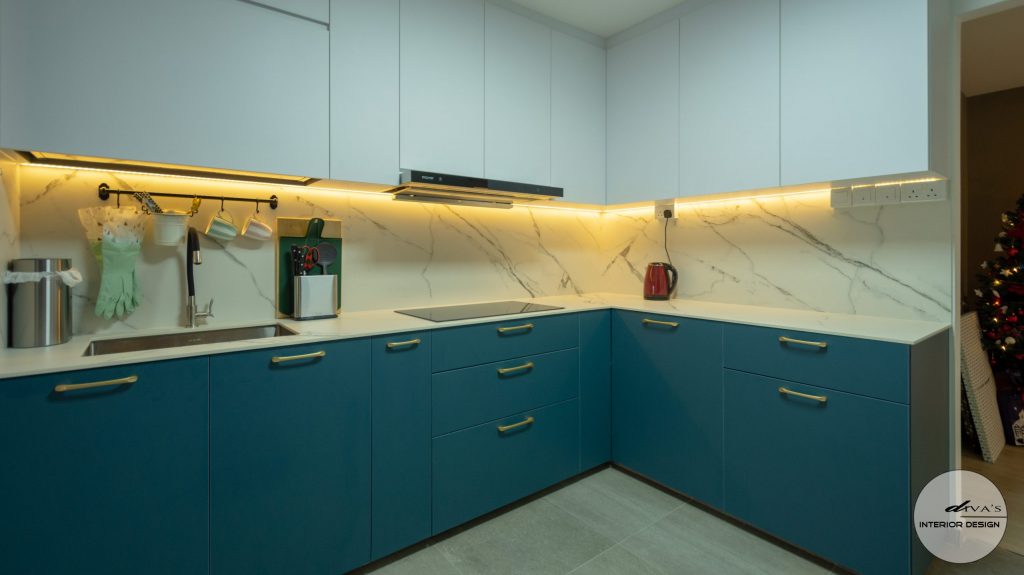 1. Kitchen Rooms Ideas for your Condo design.
Interior design ideas – New cabinets and countertops are the number one condo renovation project many homeowners choose interior designs in singapore.
It's a quick way to modernize your kitchen in an affordable fashion, without making any major structural changes that may impact resale value on the property down the line.
Cabinets can be replaced with more neutral colour palette for those buyers who want their space as is, but others will use this opportunity to really make a statement within their home!
Beautiful raw materials or something dark wood tones like cherry or walnut give you that classic look of luxury while also adding some flair.
Adding faux marble counters adds another style option for those looking to create something new for singapore homes​​. And never underestimate how much light affects people when they walk into kitchens-make sure to get a lighting specialist in to help light the space properly.

The living room is a key feature of many condos, and there are some great ways to update your current space.
A good place to start would be with the flooring-wooden floors will give you that rustic look while tile provides maximum durability.
To retain light in an area where natural light might not always shine through, use lighter colors on the wall like white or even yellow for a very bright and cheery feel!
The furniture needs updating too if it's old and outdated; opting for more modern pieces instead can help this area become functional once again.
And last but certainly not least we have lighting: since most people spend so much time in their home here, make sure you find fixtures that will provide plenty of mood-setting or task lighting.
Every living room is different, but there are some commonalities when it comes to condo renovations.
One of the most popular projects people undertake in their apartment is adding a fireplace!
Adding an outdoor space or porch can also be fun for those who live on high-rise properties as you get that feeling of having your own backyard without all the work!
For buyers looking to make changes and create something new, consider knocking out a wall so that two rooms become one large great room.
You don't have much closet space? Add built-in cabinetry with shelves and drawers for storage.
If you want more style options, go ahead and paint your walls any color under the sun (or even add wallpaper!).
When you're renovating any living space, you are able to customize the space completely to meet your needs.
You can create space that wasn't there before and find new ways to maximize the existing home.

3. Bathroom Ideas for Your Condo.
There is a lot of room for creativity when it comes to condo renovations in the bathroom. One thing that has become very popular over time are backsplashes!
If you have an old tiled wall, or if your current space doesn't offer any tile at all, consider going with something like faux brick panels as they will give the appearance of real bricks without taking up too much extra floor area (or costing too much!).
To maintain a stylish and modern look within this room, go ahead and use materials such as marble products-it can really make things pop while still staying on budget.
If there isn't enough natural light coming through windows into your bathtub or shower area, adding skylights can help to brighten the space.
For those looking for more of an outdoorsy feel, consider adding a water feature like a rain shower head or even just some beautiful plants and flowers!
Bathrooms are often a neglected space in condos, but there are many great projects to undertake.
One project that everyone should take into consideration is adding an extra toilet-this makes it so much easier when guests visit!
Another popular upgrade for this room is installing heated floors or even radiant heating depending on the location of your condo.
Condo bathrooms have limited storage and counter space; eliminating clutter can help make cleaning up after yourself easier!
The most common renovation undertaken by homeowners with their bathroom involves updating tile-a new flooring choice will instantly revitalize any bathroom design.
And never underestimate how important lighting and ventilation are in this room (especially if you're not looking to spend lots of money on new windows)!

Bedrooms are often overlooked in condos as people just don't want to spend too much time in this space.
Ideas for small bedrooms that homeowners should take into consideration is changing up the bed frame-this will make it so easy when you need to change things like sheets, blankets, and comforters!
It can really help save on costs by using items from other rooms such as lamps or armoires (as long as they fit within the allotted space). And last but not least, remember that you can always paint or wallpaper your bedroom walls to get the look of something new.
But there are a few common renovations most people undertake when it comes to their bedrooms.
One option entails replacing the bed with something like a daybed or even bunk beds if space is at an issue-this will allow for more living space in this room which can be used as an office or den (or anything else!).
Another option that works well for those who need some extra storage: adding built-in shelving systems under the bed frame or simply installing cabinets above the headboard.
One other renovation project many homeowners take on involves knocking down walls between two rooms so they become one larger space instead of being separated.
The most common project undertaken in condos is adding a new closet. This can help to increase the storage space and make things feel more spacious!
Many people also add additional windows into their bedrooms as this will allow for natural light which makes everything look better (plus it feels so much warmer!).
If you're feeling flush with cash, consider installing window treatments that have blackout capabilities-these work wonders when trying to sleep during the day or if you like sleeping in complete darkness at night.

5. Stairs Ideas for your Condo. 
Consider installing an extra staircase if you have two levels in your condo; this can make it so much easier for everyone to get up and down without having to lug things around.
Another popular renovation project is simply repainting the stairs-this will allow for them to be more functional (and practical) while still being aesthetically pleasing!
If there isn't enough natural light coming into your home ideas, consider adding features like skylights at the top of the stairwell or even a small window near the bottom where people are walking out onto their patio.
These will help those who want to install carpeting on their stairs as well because they won't need any additional lighting fixtures installed within this space.
And last but not least, make sure you're installing carpeting on your stairs if this is an option-this will help to protect them and it also feels so much more cozy!
(Just remember that the height of the steps should be considered when deciding which type of carpet goes best with these!)
There are many ways that you can make your space feel nicer! Some of the most common renovations undertaken by homeowners with their studio condo is adding a new kitchen or bathroom.
Extra ideas for those who just want to do a little bit of work on the inside.
Adding more windows is always an option in homes with low amounts of natural light coming into their building or room; it will make everything feel so much brighter and warmer!

Expanding your storage space can be done by adding built-in shelving systems under your bed or installing cabinets above your headboard.

If you have a small condo and want it to feel more spacious, consider knocking down walls to combine two rooms into one larger space instead of having them be side by side; this will help because people won't just walk from room-to-room anymore but the entire space is now accessible.

Another renovation project many homeowners take on is installing a closet; this will help the space feel bigger because it now has more storage!

It's always nice to have something to look at when you walk into your bedroom, so consider adding one or two pieces of artwork that can be easily changed out if desired (or add a full wall of art!).
Upgrading from old to new:
The most common Condo Renovations undertaken by Homeowners are those involving their rooms to be more Modern(upgrading from old to new).
Upgrading a Condo Rooms can give any space new life as well as provide comfort for homeowners who may need additional storage or lighting in order to stay organized.
Renovating your Condo Rooms, It will take a lot of time if you DIY. You need a Professional design team to do it quickly and perfectly.
DivasInterior design firms Offer a Consultancy, home Renovation Services, smart Interior Design styles, Decoration, Condo Renovation Package with flexible cost of renovation, etc. Need More Information? Don't Hesitate to Contact us