The kitchen is the heart of a home. It's where meals are prepared, families gather, and memories are made. The design of your kitchen can set the tone for your whole house, whether it be an oasis filled with light or a dark dungeon that no one wants to spend time in. Here are 8 ways to create a cozy and seamless BTO kitchen layout in Singapore:
1. Interior Designers Tips: Create a floor plan for your galley kitchen.
This is important for organizing your kitchen space, and it will also help you identify the best location for your appliances. Make sure to factor in clearance between cabinets when planning where they will be placed.
If you want to create a floor plan for your kitchen, there are many tools that can be used. One of the most popular is BTO kitchen design software. This can help you with everything from determining your floor layout to picking out the perfect paint color to planning your storage needs.
2. Invest in high-quality appliances that match the style of your home and cooking needs.
Obtain appliances that are in good condition, and do not require any major renovations to install. You can save money on appliances by purchasing second-hand ones, but keep in mind that they may be damaged or faulty. 
As well, these appliances will most likely need replacing within a few years; you might end up spending more than if you had purchased new appliances in the long run.
Notes: style="font-weight: 400;">Do your research on kitchen appliances before making a purchase to ensure you are investing in high-quality ones that match the style of your home and cooking needs.
3. Choose countertops, kitchen backsplash and cabinets to complement the design of your space.
Counters and cabinets serve many purposes in a kitchen. They serve as storage, but also can be used for display or to increase seating in the room.
If you want to make sure that your counters are serving their purpose well, then you need to choose countertops suited to what you will use them for, like chopping vegetables, displaying items, or rolling bread. There are many countertops available for your kitchen counters.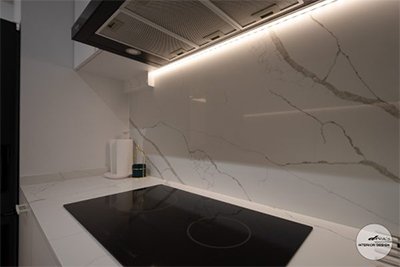 Here is a list of different types of countertops with their advantages and disadvantages:
Ceramic tiles
These have been very popular over the last few years in Singapore. The counters made from ceramic tiles can be easily replaced when broken, and they are also waterproof so many people choose them for their washrooms.
Stone counters
Granite is one of the most popular stones used for counters. Stone is a more expensive option, but they are extremely durable and add beauty to the kitchen. Marble , however, has been found to be less durable than granite or ceramic tiles.
Stone counters are very durable, but they are also expensive compared to other options which means that it may not be within everyone's budget. Marble is less durable than granite so it requires more upkeep. Slabs of stone can be expensive, making it hard for some homeowners to afford them.
Porcelain tiles
These have also been very favourably received by Singapore consumers in recent years because of their low cost and high durability. Porcelain tiles are basically ceramic tiles that have been fired at a higher temperature so they appear glossy and feel smooth.
Laminate
These countertops are composed of an image printed onto a sheet of plastic. The surface is covered with a protective layer so it can also be used as display space in the kitchen. Laminate counters are relatively cheap to install, easy to maintain , and can be found in a multitude of colors to match the style of any kitchen.
Other options
There are some other options available for kitchen counters made of different materials including wood , plastic laminate , steel, and stainless steel . Each material has its advantages depending on what you want your countertops to do in the kitchen.
For example, if your countertop will be used as a chopping board then stone or wood will do the trick, but if you want to display items on it like vases of flowers then a smooth surface like stone, ceramic tiles, or laminate will be best.
If you want something that is easy to clean and looks great then plastic laminate will be the clear choice.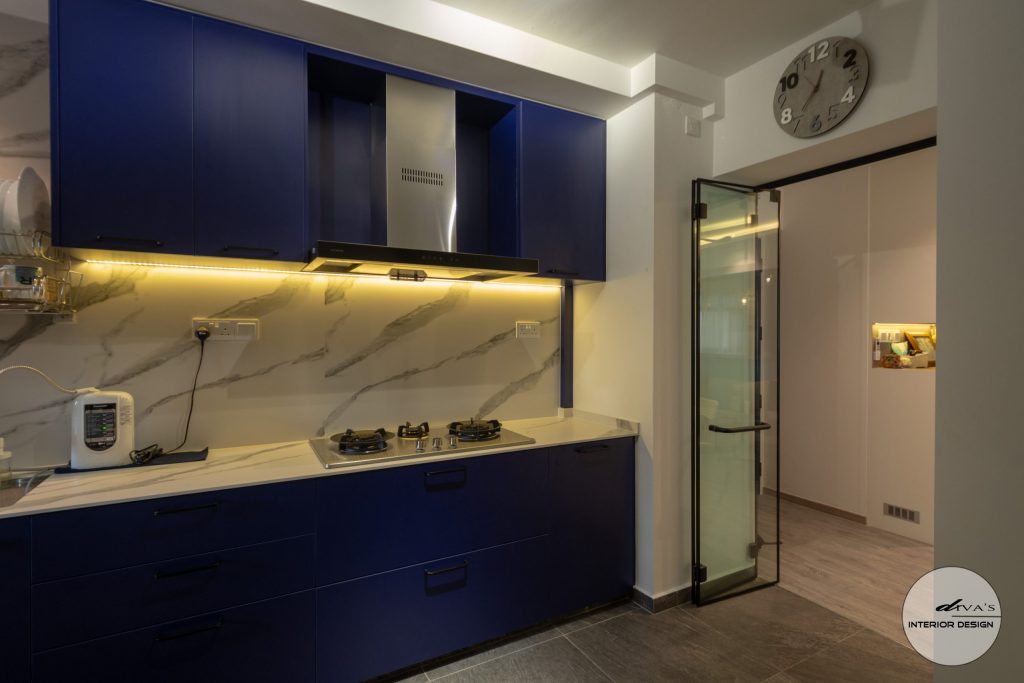 As for cabinets , you should select them based on your storage needs and personal style. If there is a lack of storage space for your kitchen, then select cabinets with doors that can be opened fully so you can see all the items stored inside.
If you have a large family and lots of kitchen appliances, then upper cabinets with adjustable shelves will be ideal so you can fit all your items in without sacrificing on storage space.
If you like to display items, then upper cabinets with glass doors will allow you to show off everything stored inside while still being able to reach in and grab whatever is needed quickly .  
4. Designate an area for food preparation, such as a large kitchen island or peninsula with ample storage underneath.
If you are constrained by space, consider incorporating a built-in kitchen island for dining or snack times.
Whichever area you prefer to use, design it with convenience in mind. Add open shelves for cookbooks, utensils and appliances. Also think about adding under-counter storage to maximize your space.
5. Include seating areas so you can enjoy meals with family and friends while you cook together.
Incorporating a bistro bench in the kitchen, which can seat up to four people, is a great way to create a cozy family environment.
If you are cooking for two, or perhaps you enjoy spending time alone while preparing meals, a kitchen counter with bar stools can give an open feel that is perfect for smaller spaces.
Add decorative touches like: 
window seats, 

artwork, and 

plants

dining table
Cozy interior design layouts are easy to achieve in a bto kitchen when you consider the size of your space, how it will be used, and your style preferences. Once you've determined the design plan that's right for you, make sure everything is cohesive and flows well together.
7. Install dimmer switches.
install dimmer switches on your lighting fixtures as it gives you the ability to adjust them according to your mood or activities going on in that room at that time. It also helps you save a lot of money each month. You have a few more watts than you need for a normal lamp and can just turn it down when you don't want a bright light.
8. Lasty, Keep the natural lighting in mind when choosing paint colors, countertops, and flooring.
A kitchen will look larger with lighter colors on the walls, which reflects natural light. Lighter tiles and flooring also let more sunlight into the room, so they are great options for kitchens with smaller space. Keep in mind, though, that dark colors absorb light, so the room will seem smaller with them on the walls.
With regards to countertops, try not to go more than three or four inches out from the wall or it will make your kitchen appear even smaller.
Conclusion
If you're struggling to create a cohesive and effective BTO kitchen design layout, it may be time for an expert opinion. Our team of professional designers can help you decide which type of kitchen cabinets will work best in your space as well as what kind of countertop is most appropriate given the size of your living area. If these decisions seem overwhelming or if you just want a helping hand with any part of this process, we're here to assist! Contact us Divas Interior, a interior designer firm today so that we can provide bto interior design services tailored to fit your needs.